The center of Hurricane Gustav is under 75 miles from New Orleans, LA and -- to the relief of many New Orleans residents, has dropped in intensity to 110 mph, or category two on the Saffir-Simpson hurricane scale.
The storm is currently making landfall on the Southeastern Louisiana coast, approximately 15 miles from Cocodrie, LA.
Though the difference between 110 mph and 115 mph is negligible, the psychological effect of dropping from a category three storm to a category two is significant. The National Hurricane Center considers a 115mph storm to be a "major hurricane" -- but make no mistake, this is absolutely still a very strong storm which still has the potential to do a number of New Orleans and the rest of southeastern Louisiana.
Gustav is a massive storm, with hurricane force winds extending more than 70 miles from the center and tropical storm force winds extending 230 miles. The storm will also dump a ton of rain on the landfall area, with rainfall amounts of 6-12 inches plus isolated pockets of 20" is possible.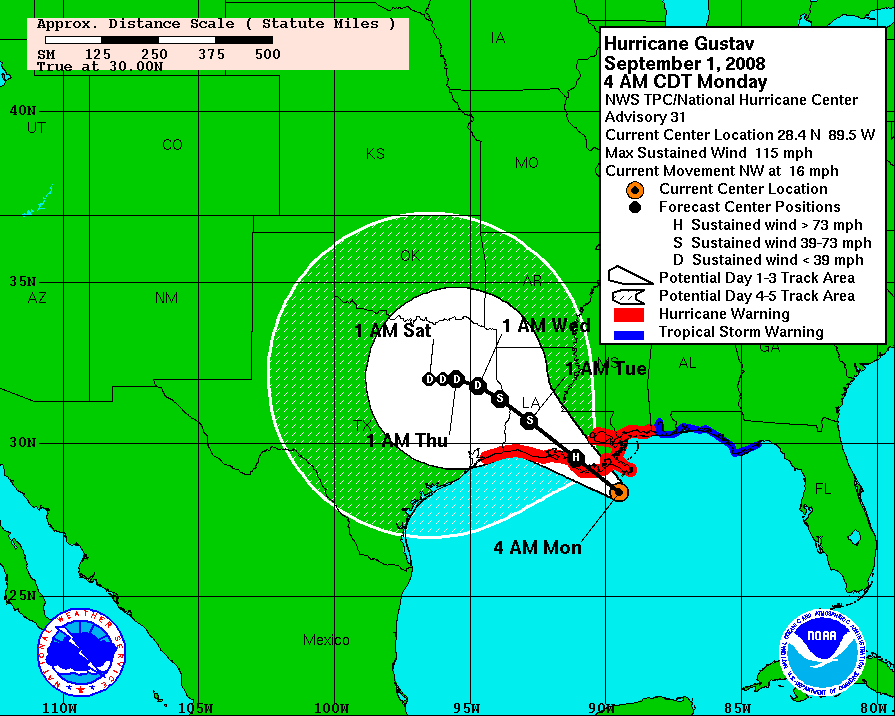 Gustav - Watches and Warnings