Tropical Storm Fay is currently crossing over Cuba on her way to Florida. Her convection is currently displaces from the mid-level circulation and she looks to be building to the east. The terrain of Cuba looks to be disrupting Fay's surface circulation and vertical development, even though she has managed to strengthen slightly. It is going to be hard to make any confident conclusions about Fay until she reemerges over water.
The latest aircraft recon found Fay to have maximum sustained winds of 60 mph and a central pressure of 1002 mb. This is a slight strengthening from previous measurements and represents a moderate strength tropical storm. Given the recent displacement of convection, NHC has placed its forecast track on the right side of the guidance envelope. However, NHC looks to be playing it safe on this track and, in my opinion, is not forecasting a track far enough to the east.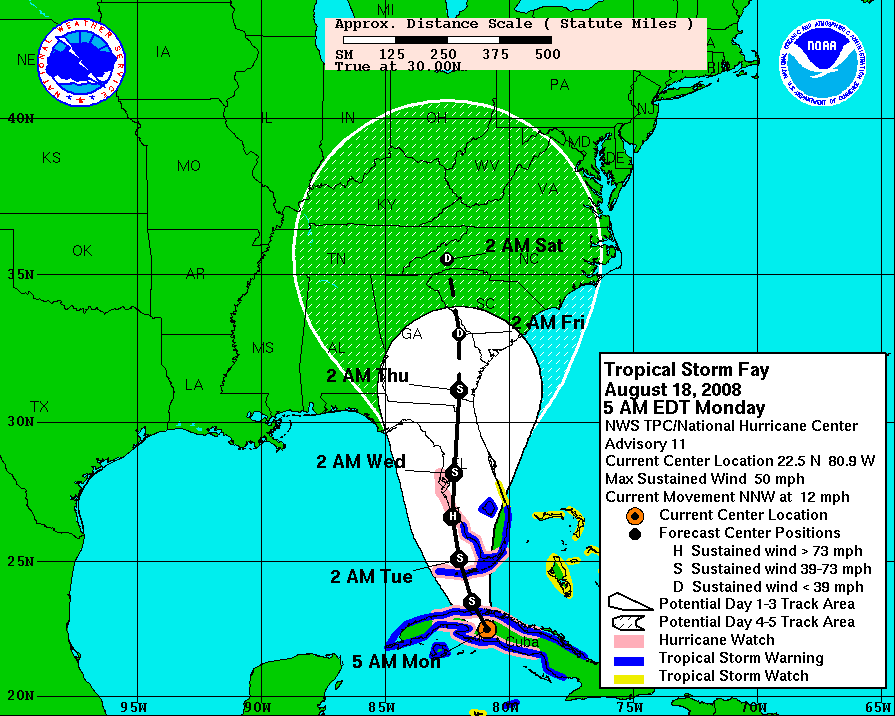 Fay - Watches and Warnings
There is a large spread in the models forecast tracks, which introduces a lot of uncertainty into the forecast. Currently the entire coast of Florida is in danger. The large spread in the models combined with the angle of approach of the storm is making it very difficult to forecast a landfall point. At this point my best guess is for a landfall somewhere between Fort Myers and Naples on the Gulf Coast. While the east coast looks to be spared a direct landfall, I do expect Fay to cross over the peninsula after landfall.
Fay's intensity at landfall is also a big question. While there are no signs of pending rapid development, there is also nothing present that would preclude it, other than limited time. At this point my best guess is for a category 1 hurricane at landfall, but that is just really an attempt on my part to hedge my bets. Perhaps we will have a better idea once Fay is back over water and we can see what her vertical structure looks like.