I have receive many notes asking where I am during this crucial storm. For those that care, I have been at a conference and training workshop for the Vancouver 2010 olympic games. Fortunately I fly back to the states tomorrow but I may still be spotty for the next couple of days. Unfortunately, there is a tropical storm headed for the Gulf coast of Florida. Tropical Storm Fay is not incredibly organized at this time, but she has a very well defined broad circulation. However, her sustained winds are only 45 mph and her central pressure is high at 1005 mb. This does not make Fay a very strong storm, but her track toward Florida is worrisome.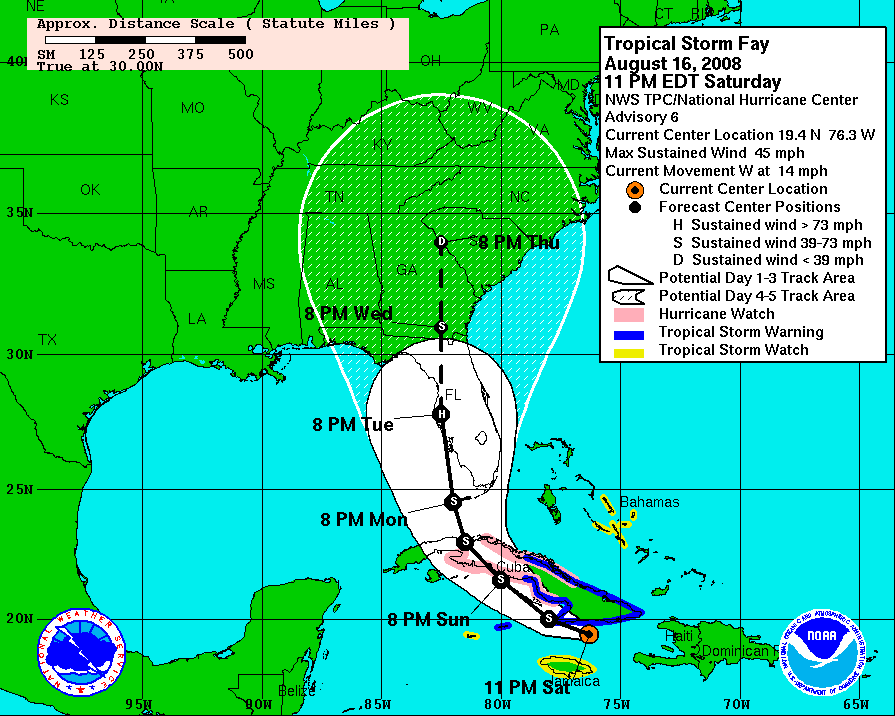 Fay - Watches and Warnings
There is a large spread in the models beyond 48 hours. Currently the entire Gulf Coast of Florida is in danger. The angle at which Fay will approach the coast will serve to amplify forecast errors. Since the track is nearly parallel to the coast, a slight shift of the track to the east or west will result in a large displacement of the landfall point to the north or south respectively.
The dynamical models do not handle hurricane intensities well, at all. The best guess for Fay's intensity at landfall is approximately a category 1 hurricane. However, this really is just a guess. We do very poorly with this kind of forecast. The breadth of Fay's circulation and proximity to land make me doubt the Fay will rapidly intensify. However, Fay's track increases the threat of this storm simply due to the sheer area that will have to be warned and since Fay could impact an elongated section of the Florida coast. When Hurricane Charley took a similar track to that forecast for Fay, he intensified very rapidly to a category 4 hurricane and took southwest Florida 'by surprise' since the local were expecting a landfall in Tampa. All those on the west coast of Florida should continue to monitor the storm. Oh, and ignore that skinny black line inside the cone!