Wow, life has been busy. Being the graduate and professional student president at Yale really does keep me on my toes! Anyhow, you really want to know about Gustav. The good news is that Haiti has taken a serious toll on the storm. Gustav remains weak and is having issues reorganizing. However, while this is good news for Cuba, it doesn't meant much for the northern Gulf Coast. If you have interests in that area, now is the time to begin planning for preparations. If you leave along the coast, or especially below sea-level, you should already have an evacuation plan in place to be instituted on Friday or Saturday.
Gustav's maximum sustained winds are only 45 mph and his central pressure is 999 mb. I think this is the weakest that we are going to see Gustav for a while as reintensification is expected tomorrow. The current forecast track brings Gustav right over the loop current, which should make for some interesting but stressful intensity fluctuations over the Gulf.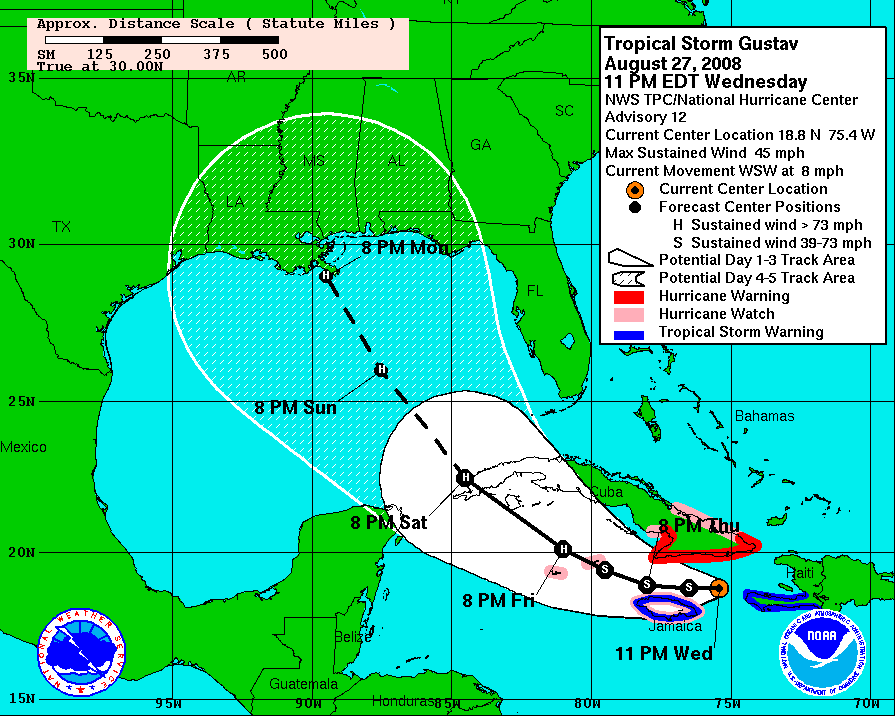 Gustav - Watches and Warnings
The model guidance is finally starting to converge upon a solution bringing Gustav into the Louisiana area early next week. However, intensity estimates are a joke at this time. After watching the model performance and looking at previous cases, the GFDL model seems to be the one of choice at this time.
My best guess for a landfall intensity is to predict a Category 3 hurricane. Please understand that this remains only a guess! Dynamical models do not handle intensity predictions well at all. It seems likely that given the time Gustav has to develop, he will be a very broad storm upon landfall. This should somewhat serve to limit his upper intensity, but also cause him to impact a very wide area. This is a typical result of a storm that has previously impacted an upstream landmass before a second landfall.