Tropical Storm Bertha managed to hold together fairly well while moving over the relatively cool waters of the eastern Atlantic. Maximum sustained winds are up to 50 mph and the central pressure has crept down to 1000 mb. Bertha is now emerging over the warmer water of the western Atlantic and accordingly is starting to build up steam. One thing that is worth noting is that Bertha has made a turn from a northwestward motion to a more westward track at brisk 21 mph. This will bring the storm closer to land than previously anticipated.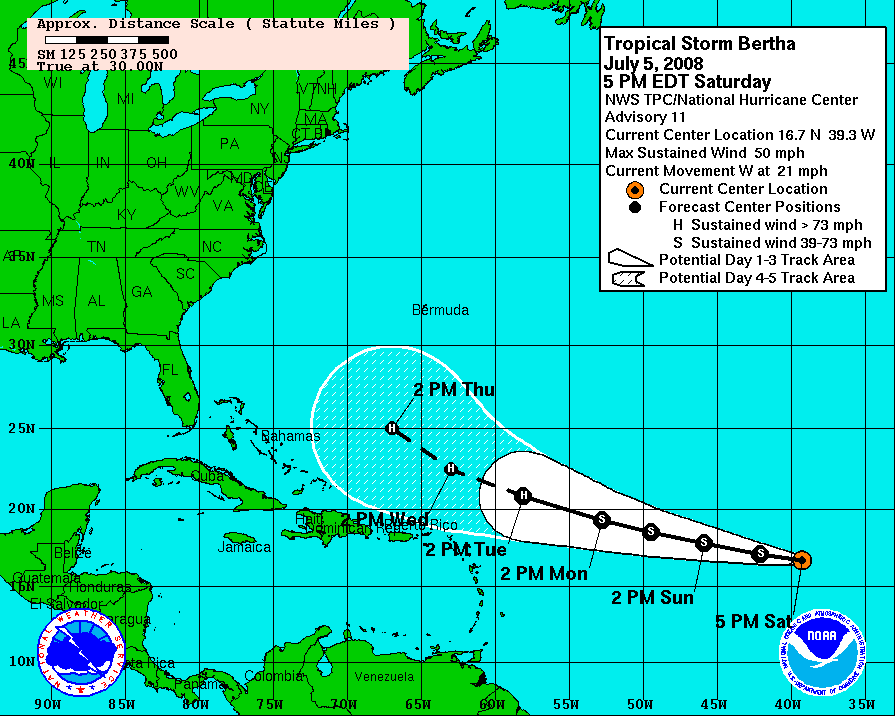 Bertha - Watches and Warnings
Despite cooler waters, Bertha has managed to sustain convection for the past couple of days. While the storm is certainly not looking powerful, it is still looking healthy enough to maintain a potential threat. Bertha's structure is enough to support continued intensification.
Bertha is likely to continue a general west-northwestward track across the Atlantic. A slow but continued intensification is expect to bring Bertha to a category 1-2 hurricane. There is no immediate threat to land, but those with interests in the northern Caribbean should continue to monitor the storm.