While it is not exactly what I would call an 'organized' system, Subtropical Depression Ten has formed from the non-tropical disturbance in the Gulf. I am hardly not at all ready to call this system tropical at this time, but advisories are being issued for political reasons. As NHC put it in their discussion:

ALTHOUGH THE AMOUNT OF CONVECTION
PRESENT PROBABLY STRAINS THE DEFINITION A BIT...BECAUSE OF THE
POTENTIAL FOR ADDITIONAL DEVELOPMENT RIGHT ALONG THE COASTLINE...
ADVISORIES ARE BEING INITIATED ON SUBTROPICAL DEPRESSION TEN.
Strengthening into a weak tropical storm is possible, but no significant impacts are expected around the Gulf Coast. Global models are forecasting no strengthening and tropical models bring the system to a moderate tropical storm.
SubTD Ten - Infrared satellite
I expected this system to gradually drift west-northwest along the Gulf Coast over the next 24 hours. However to reiterate, I do not expect significant impacts from TD Ten. We are currently processing the model output and will bring you track forecast graphics when they become available.
Honestly I am not a fan of this Sub TD classification. Generally for a system to be considered subtropical, convection must be organizing to form a low-level warm core around the center of circulation, which is obviously not present in this case. However, NHC cannot issue tropical storm advisories without an active system, so they created one. After Humberto's 'surprise' appearance in Texas, NHC is trying to avoid a repeat performance if possible. Along those lines, Tropical Storm Warnings are now up for the northern Gulf Coast. Chances for hurricane force winds anywhere along the Gulf Coast are under 5%, strong tropical storm force winds under 10%, but weak tropical storm force wind probabilities are around 30% for the Pensacola, Alabama, and Mississippi coasts.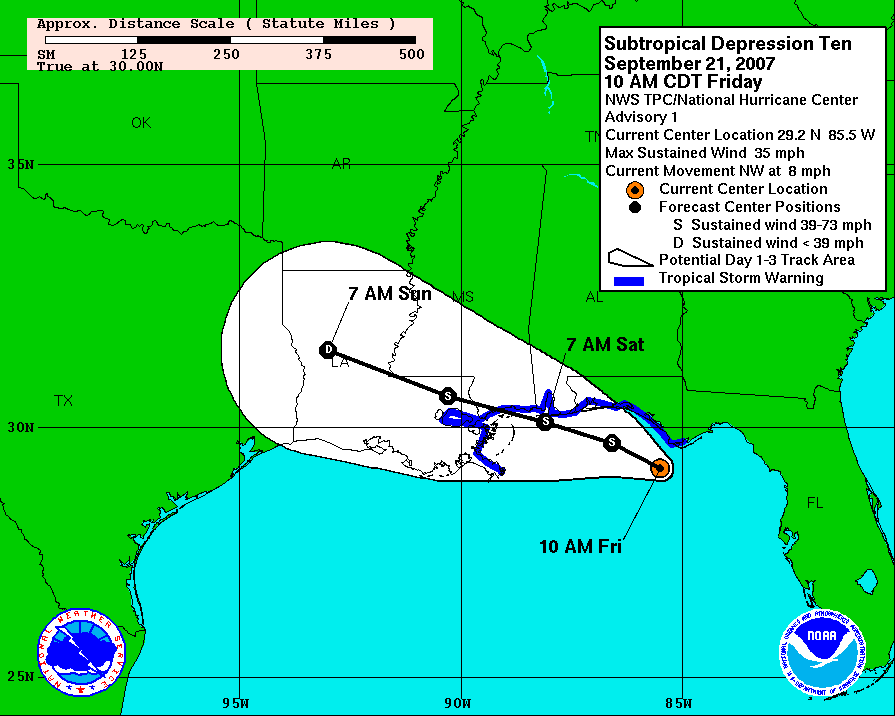 SubTD Ten - Watches and Warnings