The system that we have been watching off the East Coast is now officially Subtropical Storm Gabrielle and it is on the move. It took a while, but it has finally organized into a broad but fairly weak subtropical storm with a large area of 40 mph winds. There is now a broad band of somewhat deep convection ahead of the storm, but serious organization remains lacking.
Gabrielle - Infrared satellite
All of the models seem to bring Gabrielle over the Outer Banks and then recurve her out to sea. It seems very likely that Gabrielle will remain a subtropical storm the entire time.
There are already watches and warning posted for the Carolinas and Virginia. Refer to the map below for details. Note that after grazing the coast the storm should swiftly exit out to sea. Despite fear mongering by Accuweather, I do not expect to see significant damage from this storm.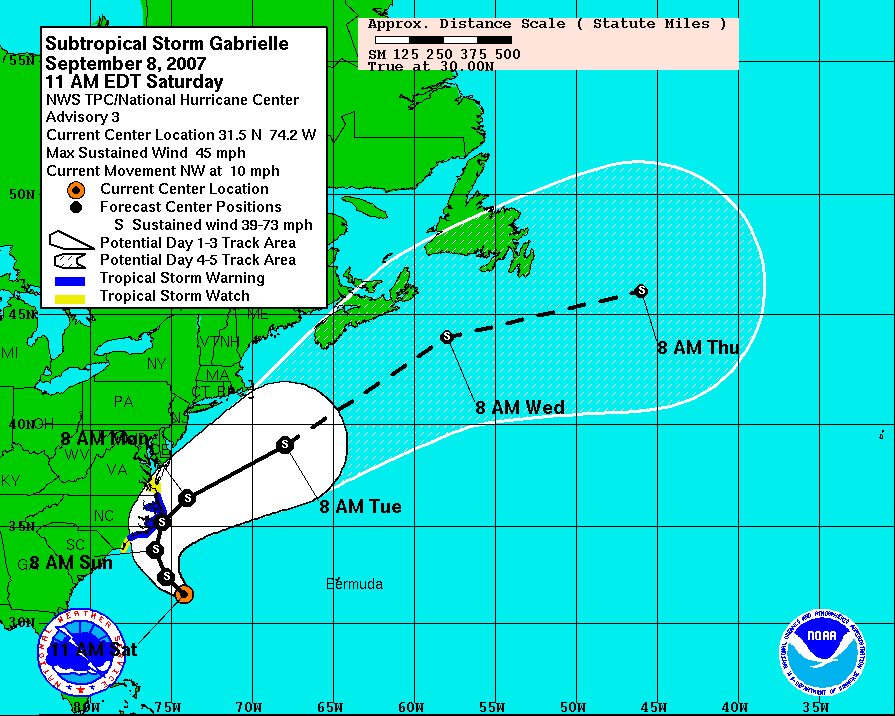 Gabrielle - Watches and Warnings
We'll be keeping an eye on this system and I expect to see Hurricane Hunters dispatched tomorrow. In the interim, check back for updates and we'll keep the charts coming on our charts page and the Gabrielle charts page.