UPDATE 8:04PM EDT: The 8PM advisory upgrades Felix to Category FIVE with 165mph winds and 934mb of central pressure as reported by Hurricane Hunter aircraft. This is a drop of 22mb over the past three hours or just over 7mb/hr, definite bombogenesis! Felix seems to be doing pretty much what we had predicted with very quick strengthening.
Additionally, the NHC Discussion notes this extraordinary event:
BECAUSE OF THE EXTREME TURBULENCE AND GROUPEL THAT THE AIRCRAFT EXPERIENCED...THE MISSION IS BEING ABORTED AND THE AIRCRAFT IS RETURNING TO ST. CROIX.
UPDATE 6:00PM EDT: The 5PM Advisory was just issued upgrading Felix to Category Four on the Saffir-Simpson Hurricane Scale with 140mph winds and 956mb of central pressure.
The NHC Discussion notes that Felix has had a "FALL IN CENTRAL PRESSURE AT A RATE OF 3.4 MB PER HOUR OVER THE PAST 7 HOURS OR SO...WHICH IS ONE OF THE MORE RAPID DEEPENING RATES WE HAVE OBSERVED". This is an example of bombogenesis or "bombing out" -- rapid intensification of a storm. More: "IN ADDITION... TO EXACERBATE THE SITUATION... THERE IS A WARM EDDY OVER THE CENTRAL CARIBBEAN THAT FELIX IS PROJECTED TO MOVE OVER IN 12 HOURS OR SO."
Here is the windspeed prediction chart for Felix for the next 3 days:
Hurricane Felix - 72-hour Windspeed Projection
As you can see, not much is preventing our storm from weakening and there is a very real possibility of Felix being a Category Five storm before or during landfall.
Felix has excellent presentation with a well-defined "stadium" eyewall and an eye diameter of 12nm.
Luckily or unluckily, Felix has little in it's path between it's current location and Central America -- nothing for it to destroy, but nothing to slow it down either.
Hurricane Felix - Visible Satellite
---
Hurricane Felix has been gaining strength quickly and is now a Category Three Hurricane with the 2PM EDT advisory listing winds of 125mph and a central pressure of 964mb.
It was only 24 hours ago that Felix was a Tropical Storm with winds of 70mph and a 999mb of pressure. From Tropical Storm to Major Hurricane in 1 day! This was good news for the Windward Islands which then Tropical Depression Six passed over a couple days ago, but bad news for Honduras, Nicaragua, Belize, Guatemala and Mexico which are all within the NHC forecast cone.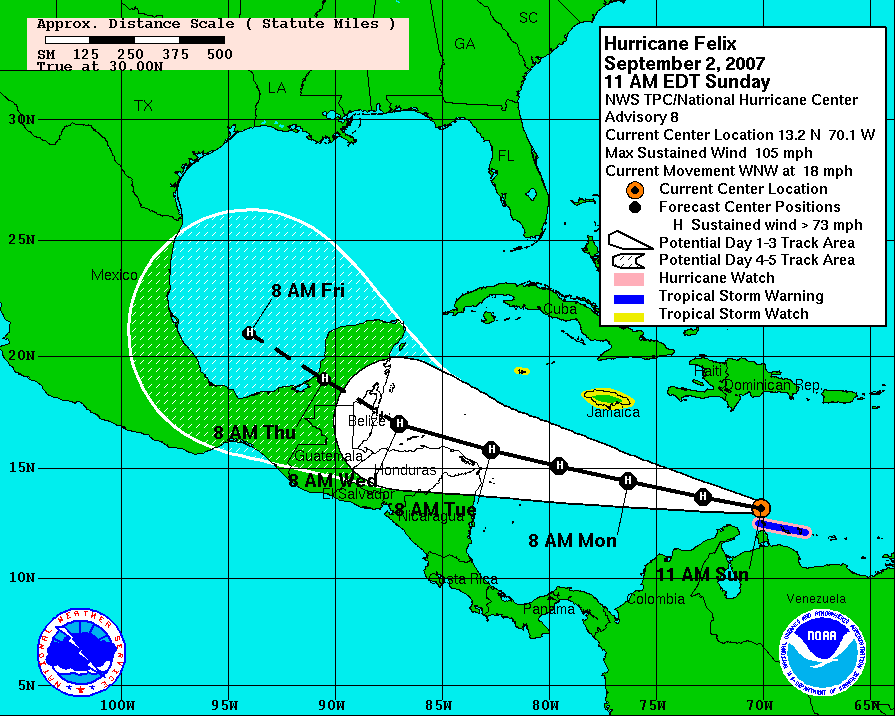 NHC 5-Day Forecast Cone
The
models
have been in strong agreement with Felix, tracking him south of Jamaica (good news for them) and further south in Central America than Dean was at landfall. There has been a tropical storm watch issued for Jamaica and Grand Cayman, but this should be a non-event compared to what they dealt with when Dean crashed through.
None of the models are calling for Felix to head through the gap between the Yucatan and Cuba and into the Gulf of Mexico. America seems to be safe with regards to Hurricane Felix.
Hurricane Felix - 5-Day Model Track
Felix is a classic hurricane with a well-defined eye and good outflow in all directions. Everything seems to indicate additional strengthening to Category Four at least. High Sea Surface Temperatures (warm waters) and high Tropical Cyclone Heat Potential (hurricane fuel) in the western Caribbean Sea as well as extremely low wind shear all point to Felix becoming a very strong hurricane before making landfall.
Hurricane Felix - Water Vapor Image
More to follow.
More charts are available on our Felix Charts Page or the Felix Charts Archive.
Also, bookmark us, twitter us, or subscribe to our RSS feed to keep up with the latest on Felix.
Questions or comments? email us!