Hurricane Felix remains a Category Four hurricane with winds of 135 mph and a central pressure of 951mb, but it appears that Felix is starting to restrengthen at this time. I fully expect Felix to be near or over Category Five stregth at landfall on the Honduras / Nicaragua border. Convection has strengthened in all quadrants and Felix looks like he means business.
Hurricane Felix - InfraredSatellite
Microwave satellite imagery is showing a single solid wall which should preclude an eyewall replacement cycle within the next 12-24 hours. With this said, starting tomorrow we may see fluctuations in intensity due to change in internal structure of the eyewall.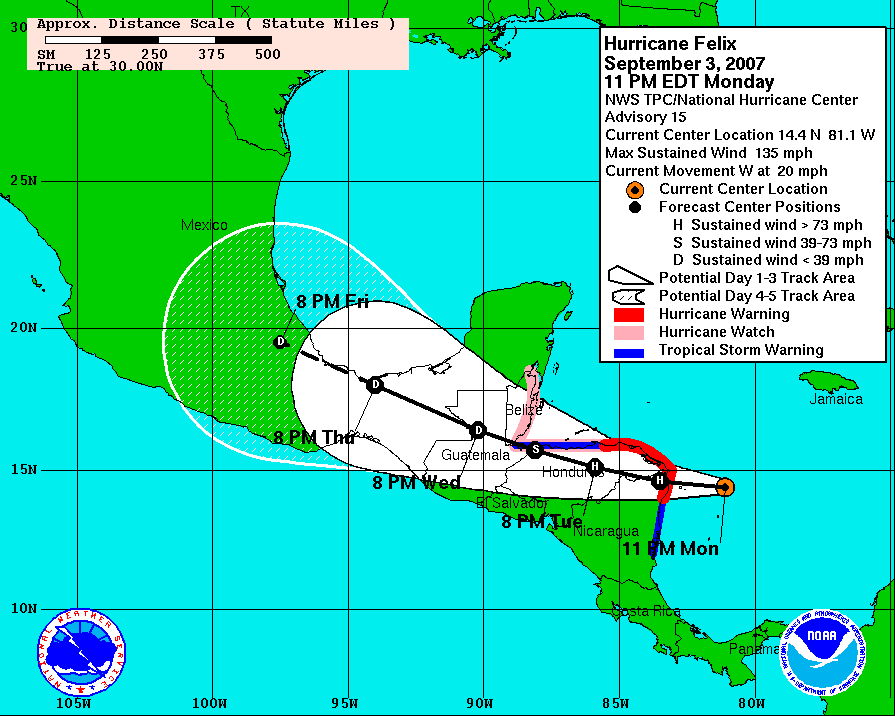 NHC 5-Day Forecast Cone
Microwave imagery is again showing a single eyewall (after earlier craziness), lending evidence to the idea that Felix underwent some perverted restructuring and is about to reintensify. This is the main reason why restrengthening is forecast.
Hurricane Felix - Microwave satellite
Already Felix looks to have his act together again. Automated intensity estimates have been estimating Felix to be gaining in strength and have it again near Category Five strength.
Automated intensity estimates
Northern Central America is not looking like the place to be right now. Authorities there have been preparing for days for what looks to be a very damaging strike.
The
models
have been in strong agreement with Felix, but landfall now seems near certain as previously mentioned.
None of the models are calling for Felix to head through the gap between the Yucatan and Cuba and into the Gulf of Mexico. America seems to be safe with regards to Hurricane Felix.
Hurricane Felix - 5-Day Model Track
Felix is a classic hurricane with a well-defined eye and good outflow in all directions. Everything seems to indicate that Felix will regain Category 5 intensity. High Sea Surface Temperatures (warm waters) and high Tropical Cyclone Heat Potential (hurricane fuel) in the western Caribbean Sea as well as extremely low wind shear all point to Felix again becoming a very strong hurricane before making landfall.

More to follow.
More charts are available on our Felix Charts Page or the Felix Charts Archive.
Also, bookmark us, twitter us, or subscribe to our RSS feed to keep up with the latest on Felix.
Questions or comments? email us!