Gabrielle has been renamed from a subtropical storm to a tropical storm and winds have picked up to 50 mph. Gabrielle is currently making landfall over North Carolina, but I do not expect significant damage. While the coast could get very wet, I don't expect to see much impact inland.
Gabrielle - Infrared satellite
All of the models seem to bring Gabrielle over the Outer Banks and then recurve her out to sea. Gabrielle is not expected to reach hurricane strength, so I don't expect much in terms of noticeable impacts.
There are still advisories in effect for the U.S. coast. Refer to the map below for details. Note that after grazing the coast the storm should swiftly exit out to sea. Gabrielle is expected to merge with an approaching frontal zone tomorrow.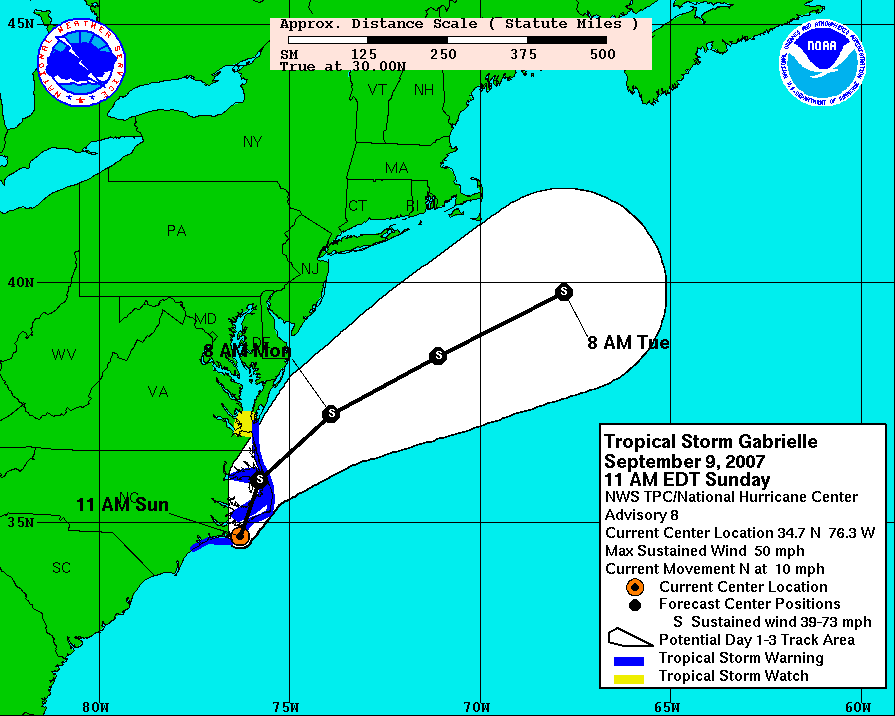 Gabrielle - Watches and Warnings
Elsewhere in the Atlantic, we are monitoring three additional areas for tropical development. Development, if any, should be slow to occur but we'll keep an eye out. In the interim, check back for updates and we'll keep the charts coming on our charts page and the Gabrielle charts page.