2:30pm EDT Update:
Hurricane Felix is having some issues, perhaps related to the small size of his eye and has weakened to a Category 4 storm with a small core of 145mph winds and central pressure of 950mb. The eye is looking more ragged, and convection appears to be slightly weaker.
Felix - Infrared satellite
Microwave and satellite-based radars do shed some light into why the storm may be weakening. A recent pass from the TRMM satellite went directly over Felix and is indicating what seems to be an eyewall replacement cycle underway. The inner eyewall seems to be so tight it is collapsing and a larger but more loosely organized eyewall appears to be forming further from the center of circulation.
This process could be reinforced by Felix's very tight core of hurricane force winds extending out only 30 miles from the center, indicating a possibly unstable vortex. The TRMM image does not show classic concentric eyewalls, but rather what appears to be a piece of the eyewall that was shed off due to some type of vortex instability.
Felix - TRMM satellite-derived Rain Rate
10AM EDT Update:
Hurricane hunters have since update us on Felix's location and the advisory is adjusted to maintain Category 5 intensity with winds of 165 mph and a central pressure of 937mb. The track has been adjusted southward and hurricane warnings are up for Honduras. Otherwise the previous forecast remains valid for the next 24 hours at which point interactions with the coast make the forecast very uncertain.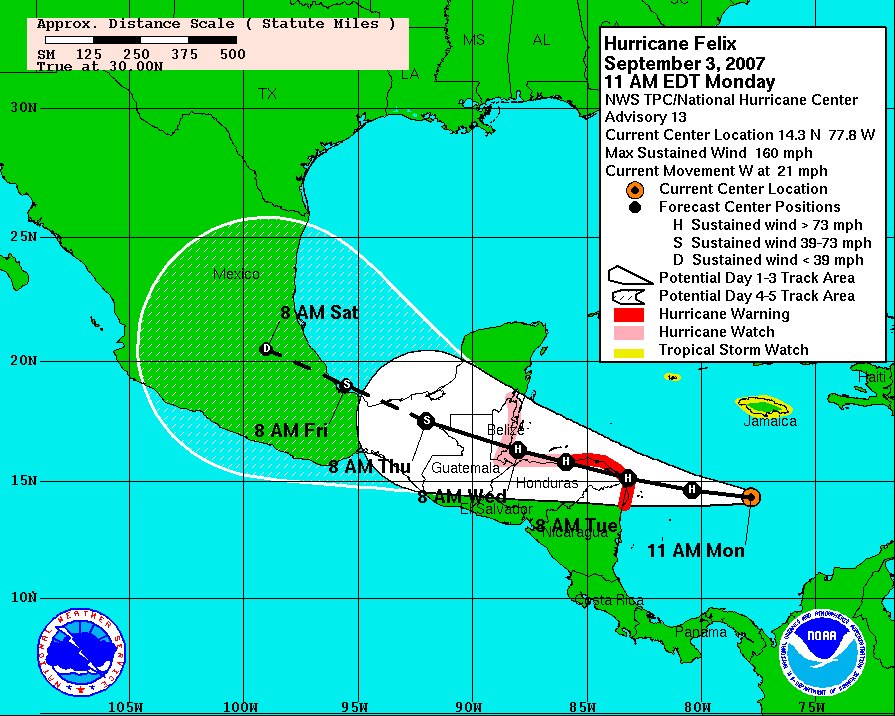 NHC 5-Day Forecast Cone
Felix - Infrared satellite
Hurricane Felix - 5-Day Model Track
Previous forecast:
Wow! Hurricane Felix is now weighing in with winds of 165 mph and a central pressure of 930 mb. After a pressure drop of 22mb over three hours between 5-8pm EDT or just over 7mb/hr, Felix is definitely bombing out! While Felix remains a very compact storm, I think we are likely to see a lot of growth in the circulation. Further increases in wind speed should be limited as Felix is already Category Five, but further pressure falls should lead to an increase in lateral size.
Additionally, the NHC Discussion from 8pm noted that Felix seems to have really messed up one of the hurricane hunters:
BECAUSE OF THE EXTREME TURBULENCE AND GROUPEL THAT THE AIRCRAFT EXPERIENCED...THE MISSION IS BEING ABORTED AND THE AIRCRAFT IS RETURNING TO ST. CROIX.
I am still waiting to hear more about the details of the incident, but this is not an event that they take lightly.
The NHC Discussion notes that Felix has had a "FALL IN CENTRAL PRESSURE AT A RATE OF 3.4 MB PER HOUR OVER THE PAST 7 HOURS OR SO...WHICH IS ONE OF THE MORE RAPID DEEPENING RATES WE HAVE OBSERVED". More: "IN ADDITION... TO EXACERBATE THE SITUATION... THERE IS A WARM EDDY OVER THE CENTRAL CARIBBEAN THAT FELIX IS PROJECTED TO MOVE OVER IN 12 HOURS OR SO."
Felix has excellent presentation with a well-defined "stadium" eyewall and an eye diameter of 10nm, which is a contraction from earlier today. This is indeed a very small eye and is likely integral in Felix's rapid intensification. While Felix has extremely strong winds, its wind field is very tight as hurricane force winds only extend out 25 miles from the center of the storm.
Luckily or unluckily, Felix has little in it's path between it's current location and Central America -- nothing for it to destroy, but nothing to slow it down either.
Hurricane Felix - InfraredSatellite
Microwave satellite imagery is showing a single solid wall which should preclude an eyewall replacement cycle within the next 12-24 hours. With this said, starting tomorrow we may see fluctuations in intensity due to change in internal structure of the eyewall.
Hurricane Felix - Microwave satellite
Northern Central America is not looking like the place to be right now. While I expect Jamaica to be spared from Felix, I don't feel so confident about Central America.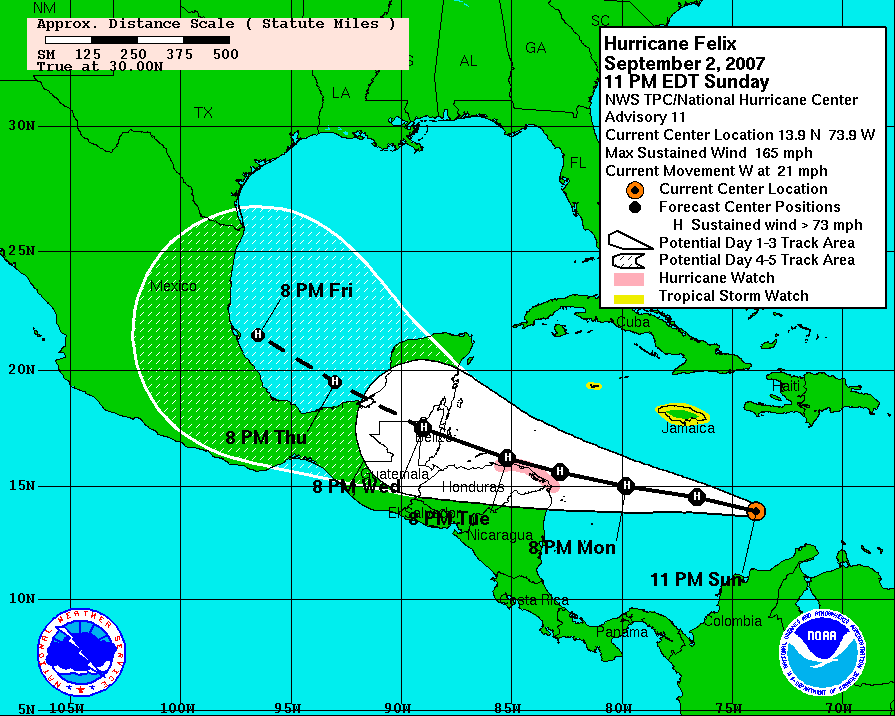 NHC 5-Day Forecast Cone
The
models
have been in strong agreement with Felix, tracking him south of Jamaica (good news for them) and further south in Central America than Dean was at landfall. There has been a tropical storm watch issued for Jamaica and Grand Cayman, but this should be a non-event compared to what they dealt with when Dean crashed through.
None of the models are calling for Felix to head through the gap between the Yucatan and Cuba and into the Gulf of Mexico. America seems to be safe with regards to Hurricane Felix.
Hurricane Felix - 5-Day Model Track
Felix is a classic hurricane with a well-defined eye and good outflow in all directions. Everything seems to indicate that Felix will maintain Category 5 intensity. High Sea Surface Temperatures (warm waters) and high Tropical Cyclone Heat Potential (hurricane fuel) in the western Caribbean Sea as well as extremely low wind shear all point to Felix becoming a very strong hurricane before making landfall.

More to follow.
More charts are available on our Felix Charts Page or the Felix Charts Archive.
Also, bookmark us, twitter us, or subscribe to our RSS feed to keep up with the latest on Felix.
Questions or comments? email us!