We've had a quiet year so far, with just a few storms at the very beginning of the season and then nothing since then. Last week, the Climate Prediction Center updated their 2007 Atlantic Hurricane Season Outlook. Though we've had a slow year so far, the CPC is still predicting an above-average season with 13-16 named storms, 7-9 hurricanes and 3-5 major hurricanes.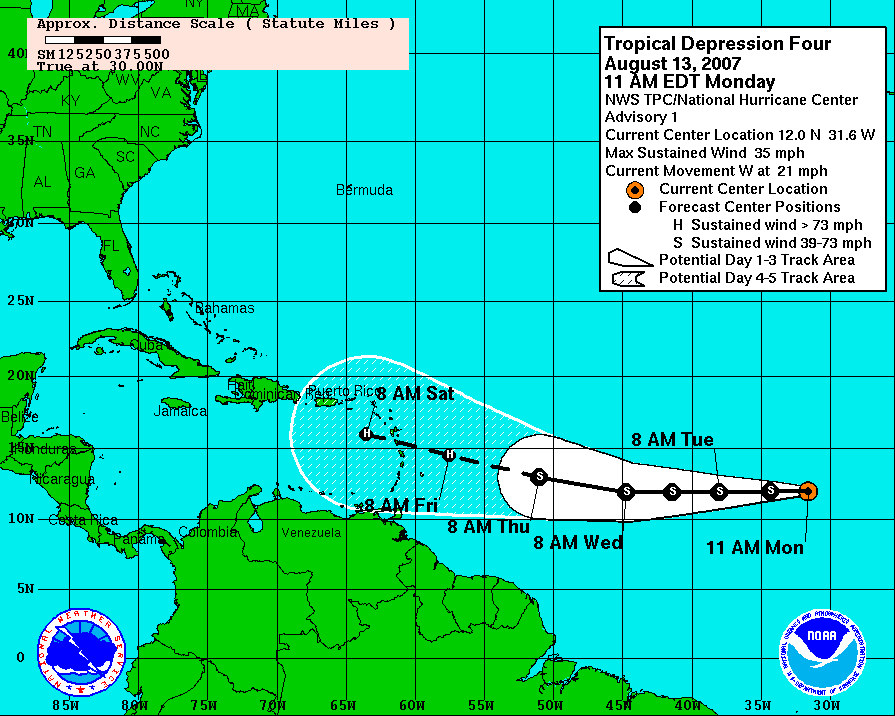 NHC Prediction Cone - 5-Day
Tropical Depression Four has an extremely strong chance to become a hurricane, with the National Hurricane Center forecasting it within 4 days. Most of the velocity models are bringing TD4 to a Category 2 hurricane within 5 days and the GFDL brings it to a Category 3 with winds of over 120mph.
There is very high agreement among all the track models for a westerly direction over the next 5 days moving towards Puerto Rico, the Virgin Islands and Hispaniola.
Track Forecast - 5-Day
TD Four is forecast to become Tropical Storm Dean within the next two advisories.
Many more charts are available on the Tropical Depression Four Charts Page.
Will update as conditions warrant.
Water Vapor Image - Not much to look at... yet