The 11pm advisory from NHC has reduced Dean's estimated maximum sustained winds down to 145 mph, and this could be rather generous. However, don't think that this is indicative of weakening. Quite to the contrary, Dean seems to be continuing to reorganize his core and is undergoing an eyewall replacement cycle in the process of strengthening. This is especially clear in the fact that Dean's pressure is now down to 918 mb (from 930 mb) as measured by the latest aircraft recon. This represents a significant strengthening of the circulation. Dean remains very impressive in satellite images and at least two distinct eyewalls are now visible, even in the infrared images.
Latest infrared satellite image
Moving into the warmer Caribbean waters with less dry air around him have done promising things for intensification as the models have been indicating for several days. In particular, the warmer and deep warm water in the western Caribbean should actually allow Dean to further intensify once he completes the eyewall replacement cycle. We expect Dean to reach Category 5 strength sometime in his lifetime, likely in the western Caribbean where the ocean contains the most heat, and this could happen at any time. Any further strengthening would bring Dean to Cat 5 intensity and his central pressure is already lower than many Category 5 storms.
The latest model runs are finally starting to converge on a more southerly track across the Yucatan after striking Jamaica. While I don't yet believe them, the models are making it seem less likely that we'll see a U.S. landfall.
If, as currently indicated, Dean tracks directly over Jamaica, we will have to reevaluate everything. As you can be see by looking at the model charts, it is after Jamaica that the model diverge. Jamaica has quite large mountains in the center of the island and Hurricanes do very poorly when passing over high elevations. Jamaica could do quite a number on our storm and knock his strength down significantly with the right conditions. Not only will the elevation condense out a lot of water from Dean's circulation, unstable flow and wave breaking over mountains can cause a redistribution of potential vorticity, which can create several type of lateral instability in the flow.
There are many watches and warning currently active. Please check the NHC advisory chart for details.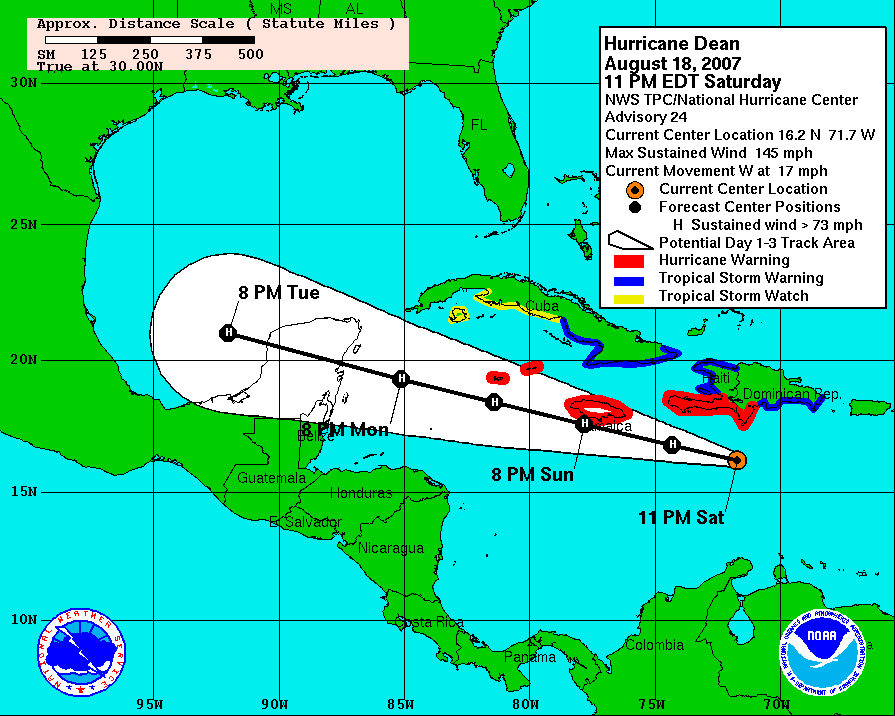 NHC Cone - 3-Day w/Watches and Warnings