Update 11:23pm EDT, Thursday: The 11pm Advisory has been chock full of interesting information. Dropsonde data from a USAF Hurricane Hunter indicates central pressure is incrementally lower at 976mb, additionally, the flight recorded a peak wind of 88 knots (101mph) and the National Hurricane Center is holding wind speed at 100 mph for the time being.
As noted earlier, the storm has no defined eye and is still sucking in dry air, inhibiting strengthening at present. Model guidance continues to be tightly clustered between the various models and movement is predicted W-WNW for at least the next 3 days. Beyond that, prediction is highly suspect and depends on the interaction between Hurricane Dean and a low northeast of the Bahamas.
Data from a NOAA G-IV Hurricane Hunter shows "no evidence of unfavorable thermodynamics in the near environment" and all guidance continues to indicate further strengthening into a major hurricane over the next 72 hours.
Some noteworthy charts are below, click to make them larger. Get the latest charts and satellite images on the Dean Charts page.
Update 8:06pm EDT, Thursday: The 8pm Intermediate Advisory holds Hurricane at Category 2 with 100 mph sustained winds and 979mb central pressure. Dean continues to choke on dry air in the northwest quadrant and this is the primary holdback on strengthening.
Update 4:40pm EDT, Thursday: The 5pm Advisory puts Dean at a Category Two hurricane on the Saffir-Simpson Hurricane Scale with winds of 100 mph. The latest USAF Hurricane Hunter reconnaissance puts the minimum pressure between 974mb and 979mb which indicates a slight weakening from earlier. It looks like Dean is sucking up dry air and keeping it's strength down a bit; good news for the islands of the Eastern Caribbean. More to come.
Hurricane Dean has strengthened to 90mph and 970mb as of the last advisory at 2pm EDT, in line with previous predictions of significant strengthening. This makes Dean almost a Category Two storm on the Saffir-Simpson Hurricane Scale, and should make it over the 95mph barrier to Cat 2 by the next advisory.
This is up from 65 mph and 994mb as of 4pm EDT yesterday. This represents a drop of 24mb in 22 hours which is officially
bombing out
. This is serious
strengthening
! Central minimum pressure is a much better indicator of hurricane strength than wind speed because it reacts faster to changing conditions within the storm and is a bit more precise, so we generally look at pressure rather than wind speed to gauge strengthening or weakening of a storm.
The National Hurricane Center had this to say about strengthening in their latest (5pm EDT) discussion and a chart of the velocity forecast follows:
ONCE DEAN REACHES THE WESTERN CARIBBEAN AND MOVES OVER AN AREA OF VERY HIGH OCEAN HEAT...IT COULD BECOME A CATEGORY FOUR HURRICANE. THIS IS CONSISTENT WITH THE SHIPS MODEL AND WITH DYNAMICAL GUIDANCE...MAINLY THE GFDL AND THE HWRF WHICH MAKE DEAN A VERY INTENSE HURRICANE.
Current Velocity Forecast
Like a '49er looking for gold, Hurricane Dean is moving westward at a very rapid clip, topping 20 mph at last report. This should enable Dean to get out of the fairly dry air it's in now and move into the Caribbean quickly where factors are more favorable for strengthening.
Two other important factors to look at when examining hurricane strengthening is Sea Surface Temperatures and Tropical Cyclone Heat Potential. Hurricanes need warm water to strengthen and the warmer the water, the stronger a storm can be. Higher than 26-27 degrees Celsius is best.
Tropical Cyclone Heat Potential or TCHP is a slightly more sophisticated way of determining how much "hurricane fuel" the ocean has. TCHP is measured in heat energy per sea water surface area (kilo Joules per square centimeter). In layman's terms, it is the amount of heat available to a hurricane above the minimum theoretical threshold for development. Zero TCHP would barely sustain a Category 1 hurricane, so any number above that is additional energy available for intensification.
The latest NHC discussion notes "outstanding agreement" among the models bringing Dean across the Caribbean sea into very warm waters with very little in the way of major strengthening.
The following three images are the forecast track for Hurricane Dean, the TCHP for the region, and the SST's for the region. Note that the hurricane is passing over an area with both high SST and high TCHP which makes for an atmosphere very conducive to strengthening. Click to enlarge.
As you can see, Dean is moving over some very favorable areas which should lead to significant strengthening.
A plethora of Hurricane and Tropical Storm Watches and Warnings have been posted for the Leeward Islands on the far eastern edge of the Caribbean Sea. With Dean predicted to strengthen further, interests in most of the Caribbean should take close note of this storm and make preparations as needed.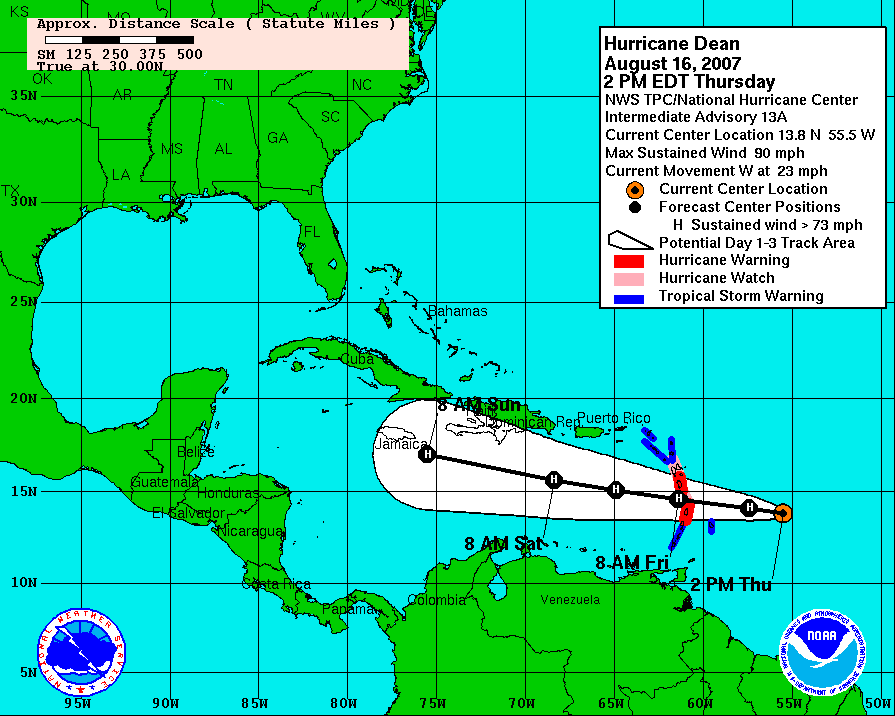 NHC Cone - 3-Day w/Watches and Warnings
Bryan informed me earlier that Dean had a bit of a pinhole eye (Wikipedia notes is that "rapidly intensifying storms can develop an extremely small, clear, and circular eye, sometimes referred to as a pinhole eye. Storms with pinhole eyes are prone to large fluctuations in intensity, and provide difficulties and frustrations for forecasters.), but I'm not seeing it at the moment. An open eye should appear soon as Dean develops into a very strong and dangerous Hurricane.
For further charting information and satellite shots, see the Hurricane Dean charts page. Click any image to get a larger view.