5:00PM EDT Update:The 5pm advisory is maintaining intensity. The previous forecast seems very much on track. The latest hurricane hunter recon recently reported a double eyewall structure so fluctuations in intensity associated with eyewall replacement are likely. The satellite appearance of Dean has improved immensely this afternoon. Dean currently is showing spectacular symmetric structure with well developed bands, a clear eye, double eyewall, and strong outflow in all quadrants. It is rare to see a hurricane that looks this well developed.
GOES infrared satellite
2:00PM EDT Update: The latest advisory from NHC maintains Dean with winds of 150 mph and a central pressure of 930 mb. Also just in, the latest TRMM satellite pass went directly over Dean. What luck! Unsurprisingly it is showing some very well developed banding wrapping around Dean's circulation. While there is no "double eyewall" yet, I expect that by this time tomorrow we'll be dealing with an eyewall replacement cycle and a storm with two radial wind maxima.
TRMM satellite measured rain rate
Previous discussion continues below:
---
After days of speculation, Hurricane Dean has finally become a devestating hurricane. The latest NHC advisory lists Dean with maximum sustained winds of 150 mph and a central pressure of 929 mb. Believe it or not, this represents a weakening from a previously measure 925mb. Dean is maintaining a solid eye and and very healthy outflow in all quadrants. In recent hours, Dean has become slightly lopsided with more convection to his east side. This is likely a result of a combination of shear and dry air to the west. However, this has not resulted in significant weakening.
Moving into the warmer Caribbean waters with less dry air around him have done promising things for intensification as the models have been indicating for several days. In particular, the warmer and deep warm water in the western Caribbean should actually allow Dean to further intensify. We expect Dean to reach Category 5 strength sometime in his lifetime, likely in the western Caribbean where the ocean contains the most heat, and this could happen at any time. Any further strengthening would bring Dean to Cat 5 intensity.
The latest model runs continue to show astounding congruity between the models, tracking Dean almost on top of each other WNW directly over Jamaica until just south of the Caymans where they begin to diverge with some models bringing Dean over the Yucatan and some bringing him in a more Wilma/Ivan track between Cuba and the Yucatan and into the central Gulf of Mexico. Our ability to predict beyond 3 days (beyond just past Jamaica) is very suspect though, as there are many variables that we just cannot control. All interests in the Gulf of Mexico from Texas to Florida should keep a close watch on Hurricane Dean. The GFDL had been calling for a strike on Louisiana, and it is often a very reliable model. However, it has recently fallen in line to the Yucatan. At the same time our newest and highest resolution model is also calling for a strike on the Yucatan but this agreement did not hold 12 hours ago, so all bets are valid.
If, as currently indicated, Dean tracks directly over Jamaica, we will have to reevaluate everything. As you can be see by looking at the model charts, it is after Jamaica that the model diverge. Jamaica has quite large mountains in the center of the island and Hurricanes do very poorly when passing over high elevations. Jamaica could do quite a number on our storm and knock his strength down significantly with the right conditions. Not only will the elevation condense out a lot of water from Dean's circulation, unstable flow and wave breaking over mountains can cause a redistribution of potential vorticity, which can create several type of lateral instability in the flow.
There are many watches and warning currently active. Please check the NHC advisory chart for details.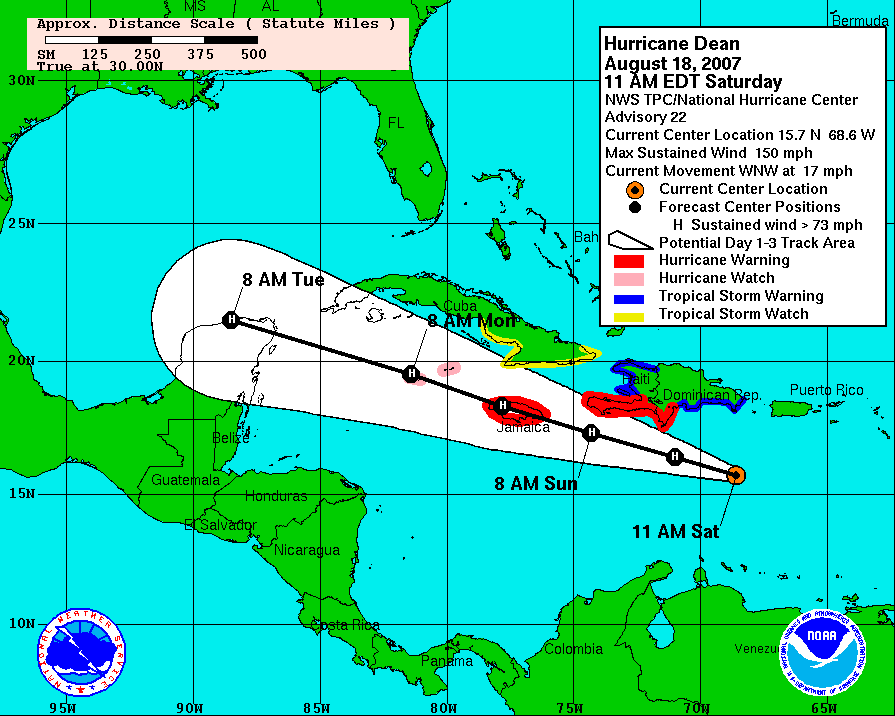 NHC Cone - 3-Day w/Watches and Warnings