Tropical Depression 27 has rebuilt some of its convection that it lacked this morning, but it remains to be seen if it will survive the next day and then develop into tropical storm Gamma. TD 27 still isn't showing much organization, and the deep convection is much less centralized that it used to be.
- Click for full size image -
Advertisement
The depression has remained less organized today than it was last night, yet Dvarak estimates are continuing to rank it near or above tropical storm strength.


- Click for full size image -
The computer models are continuing to track TD27 westward across the Caribbean towards Central America. I suspect that when the system reaches that point it will then take a more northwestward turn, in agreement with climatology, and on a course similar to that forecast by the BAM Deep.


- Click for full size image -
There has been some question as to whether or not TD 27 could survive the relatively heavy wind shear it was been encountering. So far the depression has 'weathered the storm' and seems to be alive. The models are now in a general agreement that TD 27 should organize and strengthen into Tropical Storm Gamma by tomorrow.


- Click for full size image -
There seems to be enough energy in the Caribbean to allow for TD 27 to strengthen quite a bit. Once the depression moves past a longitude of about 70 degrees west, it should be over much more favorable waters for development. There is a pool of very deep warm water (for November) sitting south of Jamaica that could fuel rapid intensification if TD 27 crosses directly over it.


- Click for full size image -
Here is NHC's forecast track which is looking like a good prediction: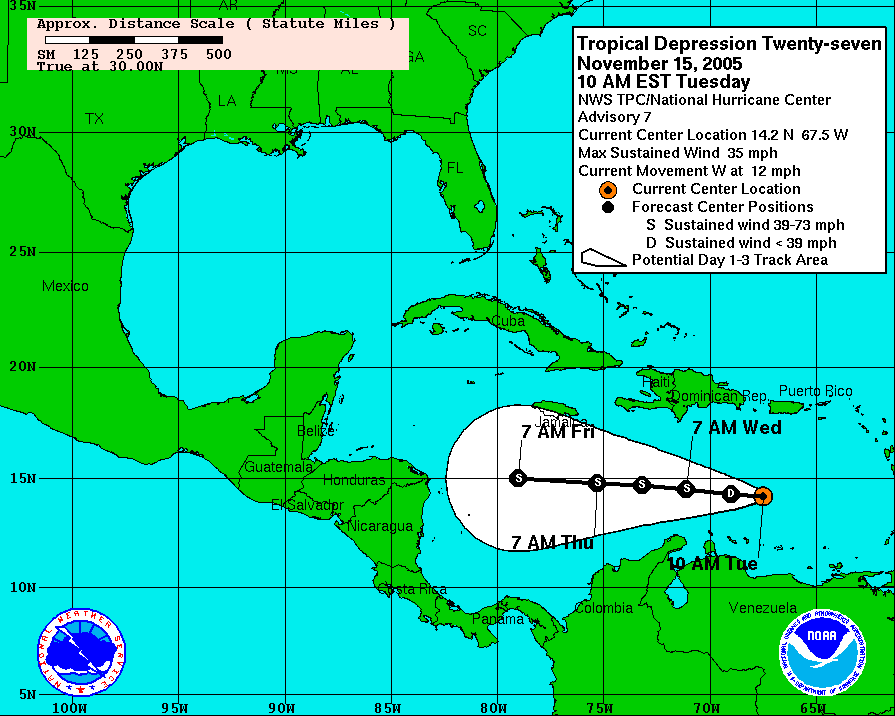 - Click for the full size image -