Right now the Yucatan is still get a beating. As of the 2PM EDT advisory, the intensity was reduced to show winds of 110 mph and a pressure of 953 mb. Wilma remains nearly stationary. A stalled hurricane like Wilma can easilly produce a foot of rain. The center is barely inland and drifting to north. Its worth noting that this is a change in direct as Wilma appears to be turning. Wilma's eye has closed in as she is weakening over land. However, she remains capable of restrengthening when she enters the Gulf.
Radar images indicate that both of Wilma's eyewalls remain intact. After watching the radar for the past couple of days, I think we need to invite the Mexican engineers to build new radars for NOAA. American radars would never have held up to this type of abuse. Having been to the radar operations center in Norman, OK, I have complete respect for the work of the staff, but seemingly every time a hurricane strikes the US, the local radar is knocked off-line and backup radars far from the storm take control.

Hurricane Watches are now up for the Florida Keys and madatory evacuations have been issued for parts of the Florida coast.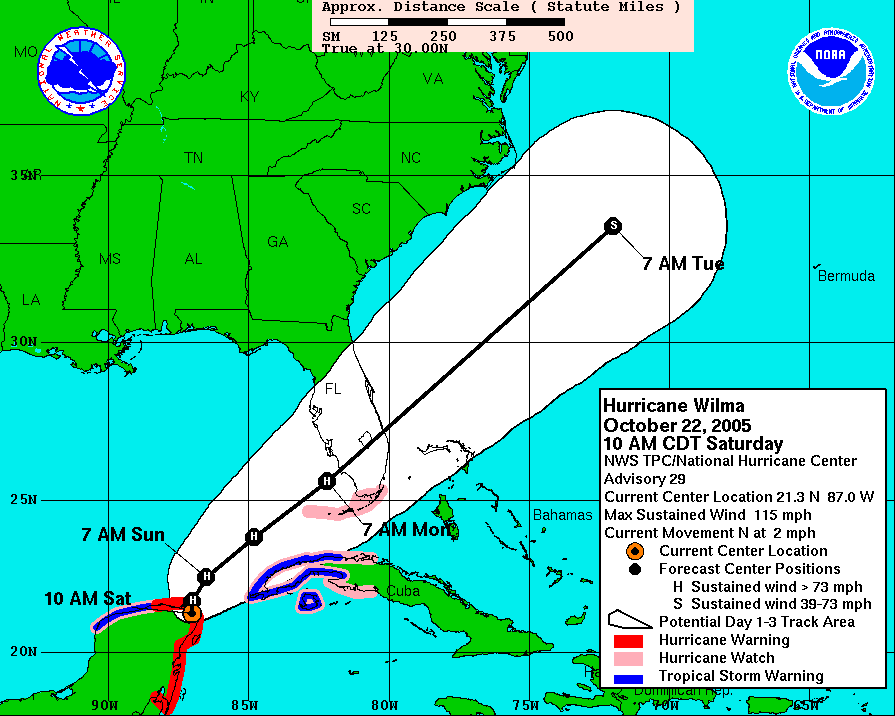 I bet people really want to know where Wilma is going next. Originally I was thinking Tampa. Yesterday's 12z model runs showed that all the models that best forecast Wilma's track to that point yesterday were going directly at Tampa. However, the 18z run had shifted many of them back towards Naples. The 00z models are evenly spread all over the place and the new 12z run show just as much spread. In short, it is still too early to pick an exact landfall point.
As Wilma ventures into the Gulf, at least at first she will be over warm water capable of supporting a Category 5 hurricane. The Loop Current is very strong in the southern Gulf at this time. There is much more energy present in the south-central Gulf that is typical of this time of year. However, the warm water becomes limited as you approach the Florida coast and move north. Accordingly, I still suspect that Wilma will be a Category 2 hurricane at her next landfall in Florida.