The latest recon is reporting the winds are at 145 mph and pressure is at 930 mb. Worth noting is the fact that since last night they eye has closed off and shrunk from 40 nm to 30 nm in diameter. This would indicate strengthening if Wilma would stop sucking in the dry air on the west side.
For those of you with any remaining questions about how exactly eyewall replacement happens, please check out this loop. WARNING: It is a HUGE loop.
Wilma is about the clip the Yucatan and clobber Cancun. After Wilma starts to move away from Cancun we can talk some more about possible landfall points in Florida. The eyewall is already striking Mexico at this time. For now just sit back and watch the show. It's too late to do anything to help Mexico and too early to make any predictions for Florida.
I'd be trying to get out too if I were you:
Tourists packed Cancun's airport and shuttled from luxury hotels to spartan emergency shelters Thursday, desperately trying to escape Hurricane Wilma as its outer bands battered the resort's white-sand beaches.

Tropical storm-force winds and rains were already hitting Cozumel by Thursday night. Hundreds of schools in the Yucatan were ordered closed and many were turned into shelters. Airlines started canceling flights.

While hundreds were evacuated from Cozumel, Mexican officials said about a thousand tourists stayed on the island, mainly at hotel ballrooms being used as storm shelters. About 20,000 tourists remained at shelters and hotels on the mainland south of Cancun, and an estimated 10,000 to 12,000 in the city itself.

"The most important thing now is to protect lives, protect the lives of our children, of our grandparents," President Vicente Fox said in a broadcast address to the nation.

After the Cancun airport closed, desperate tourists shuttled from luxury hotels to emergency shelters ahead of Wilma, which forecasters said was growing stronger.
This is the view from Cancun:
After Wilma moves away from Cancun, we could see temporary strengthening as the eyewall contracts over the Loop Current. However, land could substantially weaken her first. Further eyewall replace is not expected until at least tomorrow. It is not going to be a pretty picture in Mexico.
Once Wilma hits the relatively cooler waters of the Gulf, wind shear should increase and Wilma will be unlikely to reach her original strength. It's looking like Wilma may be much weaker than thought when we she approaches Florida. Please notice how I am no longer saying exlusively Southern Florida. Right now time is on Florida's side. The longer Wilma lingers near Mexico, the weaker she will be when she reaches Florida. As time passes, upper-level conditions over the Gulf are forecast to become increasingly hostile. A Category 2 landfall in Florida is most likely.
Click on the map below and you will be brought to the full control panel in a new window to explore the model tracks:

*Note: Earlier we were experiencing technical difficulties caused by the overwhelming demand for the new model chart. It has since been moved to a mirror and should be available. For information on the models, see our
model description page
.
Many people have been asking what Wilma's wind field looks like. To give people a general idea of the structure of this hurricane, I attached a NOAA chart of the wind field. The contours represents wind speed in knots, not miles per hour.
Those of you in Florida should begin planning and preparations now. Evacuations are already under way in the Keys. It seems as if you may have been given some extra time, but Wilma has not turned away. Wilma clearly has her sights set on passing by the Yucatan and eventually heading towards Florida. While things are not looking as bad as originally thought, Wilma has had a tendency to throw us surprises. Please keep your guard up with this major hurricane.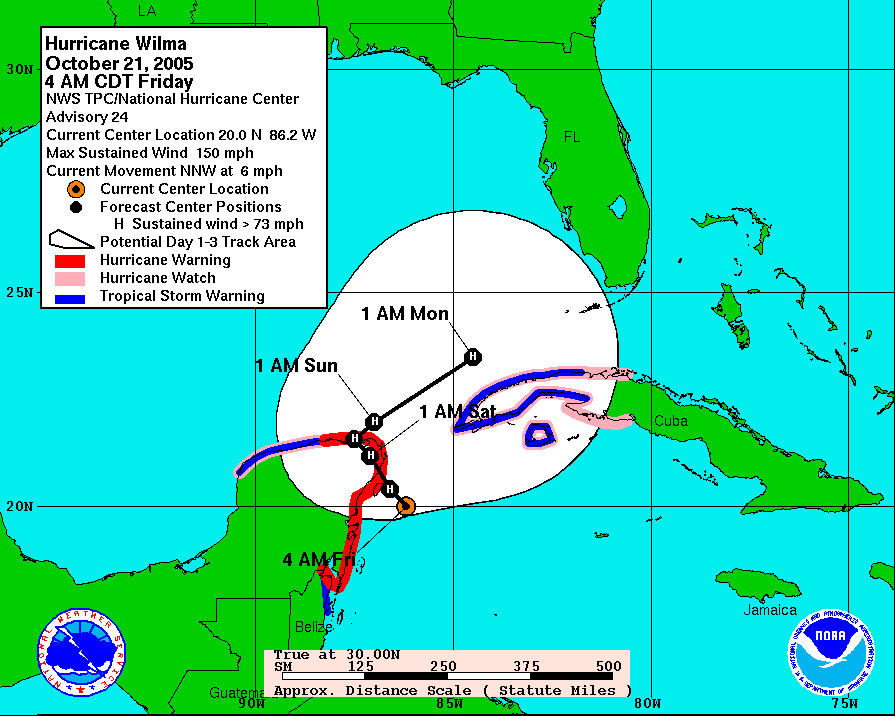 The Sun-Sentinel reports that the Florida Keys have been ordered evacuated. Of course, before Wilma reaches Florida, many other places will feel her wrath. In the Caribbean, at least 12 have already been reported dead.