As of the 8PM EDT Advisory, Hurricane Wilma's winds have maintained speed and central pressure (the true judge of intensity) at 160 mph and 892 mb respectively. Wilma continues to be a devestating Category 5 hurricane and remains stronger than Hurricanes Andrew, Katrina, and Rita ever were.
Some tracks have shifted more towards the Yucatan, and the models now show two distinct solutions. One solution calls for a direct hit on Southern Florida, and the other hits the Yucatan and then turns Wilma back towards Cuba. At this point it appears that an eyewall cycle has just completed. Once Wilma hits the relatively cooler waters of the Gulf, she should weaken a bit before hitting Florida as a major hurricane (category 3 or above).
Click on the map below and you will be brought to the full control panel in a new window to explore the model tracks.

*Note: Earlier we were experiencing technical difficulties caused by the overwhelming demand for the new model chart. It has since been moved to a mirror and should be available. For information on the models, see our
model description page
.
The models look like they are heading right out the window today. There is a chance that we may have to rewrite the whole forecast track if the current trends continue. However, I am going to play it steady right now and wait for tonight's model runs before I make any drastic changes. At this point I am going to stick with a forecast of a Florida landfall, but beware that the situation could be changing. The difference of opinions seems to depend on whether Wilma gets caught up by a low over the Great Lakes.
AP reports that the Florida Keys have been ordered evacuated. In the Caribbean, at least 12 have already been reported dead.

Wilma looks like she has reorganized and just replaced her eyewall. The latest slacking over the winds coinciding with a drop in pressure is consistent with this conclusion. The latest satellite shots clearly show a newly-formed eyewall that has consolidated. The old 'pinhole' eyewall is shown below in its final stage of collapse in the center of the new eye. With eyewall replacement now complete, Wilma could restrengthen.

This morning Hurricane Wilma bottomed out with a central pressure of 882 mb. Wilma has broken the record as the strongest hurricane ever recorded in the Atlantic with a central pressure of 882 mb. Yes, ever. To give you some points of reference: Katrina reached 902 mb, Rita bottomed out at 897 mb, both Mitch and Camille measured 905 mb, and Andrew was 922 mb. The previous record holder was Gilbert with 888 mb.
This is the first time on record that three Category 5 hurricanes formed in the same year. Previously both 1960 and 1961 had two Category 5 hurricanes. In a single year we have now seen the 1st, 4th, and 6th strongest hurricanes ever recorded in the Atlantic.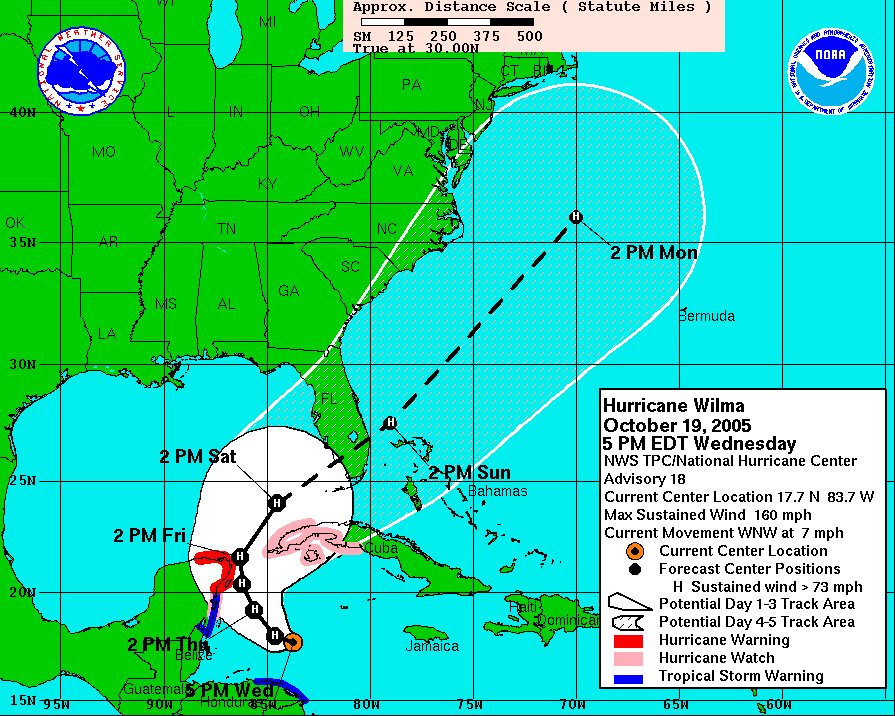 Those of you in Southern Florida should begin planning now. Evacuations are already under way in the Keys. Please be prepared for a hurricane landfall as early as Saturday. Wilma is very serious storm. Wilma clearly has her sights set on passing through the Yucatan Channel and heading directly at Southern Florida. This is no longer a joking matter. We have yet another catastrophic hurricane at hand.