As of the 2PM EDT Advisory, Hurricane Wilma has weakened some more. Maximum sustained winds are now at 145 mph and her central pressure is 915 mb. Wilma is now technically strong Category 4 hurricane. However, in terms of pressure, which is a better judge of strength than winds, Wilma remains stronger than Hurricane Andrew ever was. Wilma has completely reorganized and a new, larger eyewall is now in control.
Some tracks had shifted more towards the Yucatan, but they have returned to their previous solutions. One interesting development is that the models have slowed and now do not bring Wilma over Florida until Monday. Wilma thus far has also tracked to the southwest of the model projections. As explained below, this may have significant consequences. However, before Florida, we still have to deal with Mexico. Honestly, it looks like Cancun may get crushed. Now that Wilma is within range of the Mexican radar, Wilma should be much easier to track.
At this point it appears that an eyewall cycle has come to a close. Due to this, restrengthening is forecast on Thursday, probably back to a Category 5 hurricane. Wilma had formerly had a very small eye (about 4 nautical miles). I expect this eyewall to slowly contract and stay in control for today, and further eyewall replace is not expected until at least Friday. This should allow to Wilma to reach Cancun at the next peak of her intensity.
The more westward and slower track of Wilma may be completely changing the forecast for Florida. If Wilma's eye makes landfall over Mexico and it lingers in the reason, the interactions with land could significantly weaken the hurricane. Once Wilma hits the relatively cooler waters of the Gulf, wind shear should increase and Wilma will be unlikely to reach her original strength. It's looking like Wilma may be much weaker than thought when we she approaches Florida. Please notice how I am no longer saying exlusively Southern Florida.
Click on the map below and you will be brought to the full control panel in a new window to explore the model tracks:

*Note: Earlier we were experiencing technical difficulties caused by the overwhelming demand for the new model chart. It has since been moved to a mirror and should be available. For information on the models, see our
model description page
.
Those of you in Florida should begin planning and preparations now. Evacuations are already under way in the Keys. It seems as if you may have been given some extra time, but Wilma has not turned away. Wilma clearly has her sights set on passing by Cancun and heading directly at Florida. While things are not looking as bad as originally thought, Wilma has had a tendency to throw us surprises. Please keep your guard up with this major hurricane.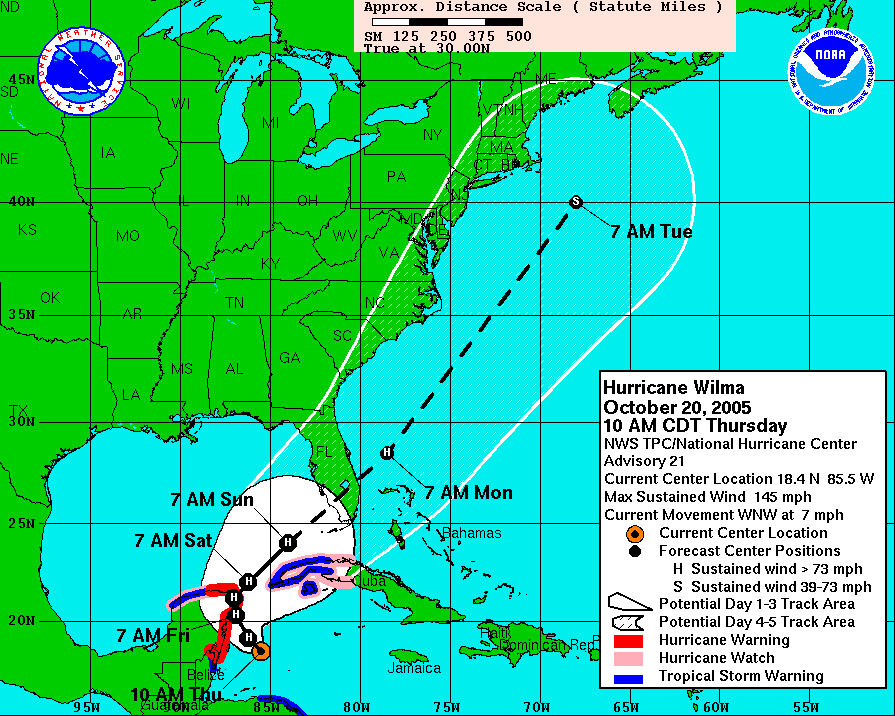 The Sun-Sentinel reports that the Florida Keys have been ordered evacuated. Of course, before Wilma reaches Florida, many other places will feel her wrath. Cancun looks like it might take a direct strike. In the Caribbean, at least 12 have already been reported dead.
Wednesday morning Hurricane Wilma bottomed out with a central pressure of 882 mb. Wilma has broken the record as the strongest hurricane ever recorded in the Atlantic with a central pressure of 882 mb. Yes, ever. To give you some points of reference: Katrina reached 902 mb, Rita bottomed out at 897 mb, both Mitch and Camille measured 905 mb, and Andrew was 922 mb. The previous record holder was Gilbert with 888 mb.
This is the first time on record that three Category 5 hurricanes formed in the same year. Previously both 1960 and 1961 had two Category 5 hurricanes. In a single year we have now seen the 1st, 4th, and 6th strongest hurricanes ever recorded in the Atlantic.