This morning NHC began issuing advisories on Tropical Storm Tammy. Accordingly, a Tropical Storm Warning has been posted for a large section of the Florida coast. Because Tammy is moving roughly parallel to the coast, an exact point of landfall is hard to call. Without an eye, the landfall point doesn't really matter either.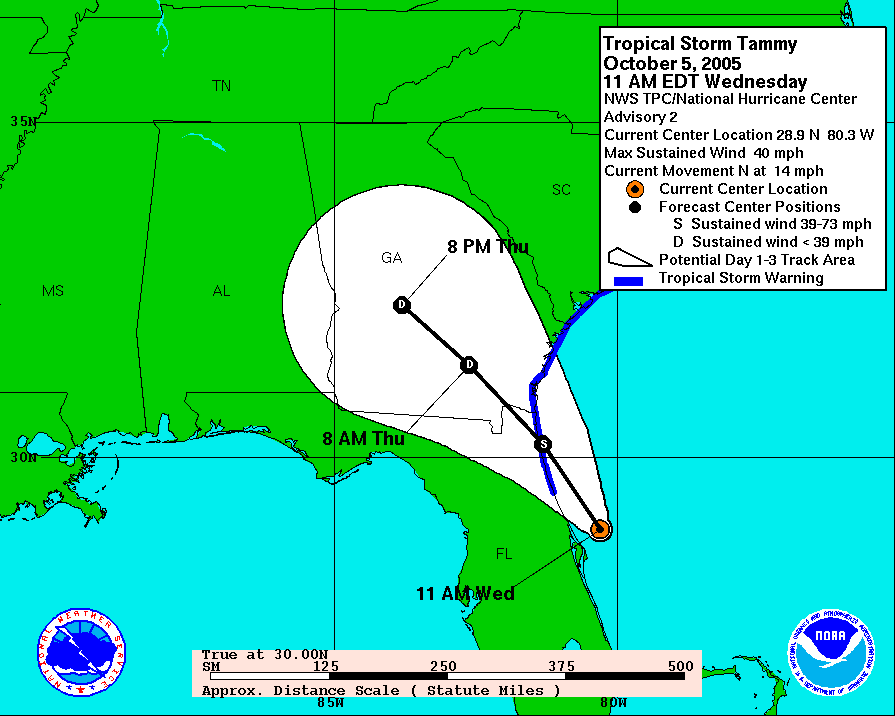 This system has been reported to have been packing tropical storm force winds for some time, but NHC was anxiously waiting for it to form a closed circulation. As you can see on the Melbourne radar, that close circulation has finally formed.

At first most of the computer models seemed to go right along with NHC's forecast track. The clear consensus is a landfall somewhere along the northern Florida coast.

Of course, I like to present fair and balanced coverage. The GFS ensemble is actually consistently calling for Tammy to cross over into the Gulf.

Once again, the MM5 is making things interesting by backing up the GFS ensemble's track into the Gulf.

Right now Tammy isn't looking too impressive on the satellite. Her convection is not very well centered. Tammy has a long way to go before she is going to create very much damage.