We're really seeing an interesting situation develop now. Surface pressures of the Mid-Atlantic are dropping steadily as Hurricane Wilma moves off-shore. The latest advisory lists Wilma as a hurricane with sustained winds of 105 mph and a central pressure of 970 mb. Wilma is racing northeast at 53 mph. That is very very very fast for a hurricane.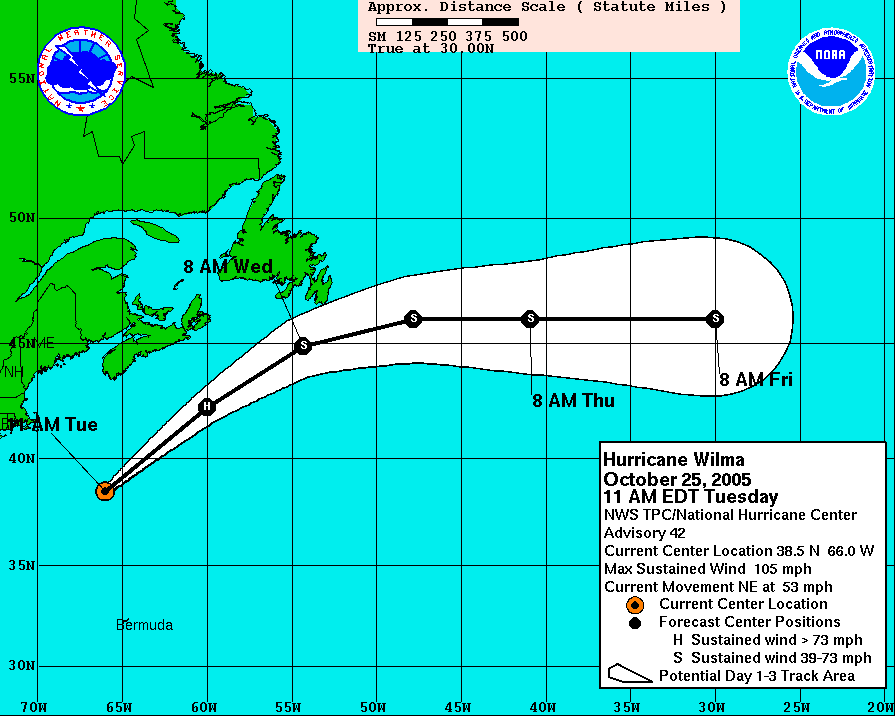 Wilma's effects are already being felt well up into New England. Today will bring near hurricane force winds and several inches of rain and snow to the Northeast and Mid-Atlantic. As you can see, Wilma has lost her tropical structure. There is no longer an eye and a cold front is developing on her south side.
All of the model guidance suggests that Wilma is going to interact with an oncoming mid-lattitude system and create quite a storm today. However, they will stay seperate systems. It looks like we are going to be dealing with a double barreled system by this afternoon off of New England that will be creating winds to near hurricane force.
By tonight the storms should split as Wilma will move off towards the northeast while the new Nor'Easter will be parked over Cape Cod.
There is a strong chance of significant snow event across much of Pennsylvania, New York, and Vermont. Winter weather watches and warnings are in effect from the following offices:

The forecast discussion from NWS in Taunton, MA does a good job explaining the developing coast storm, but be warned it is full of technical jargon many of you many not understand. The discussion is also written by Walt Drag (a man who believes every storm is 'the big one') and David Vallee (who will absolutely foam at the mouth at the sight of a tropical / hybrid system in New England).
A slightly less technical discussion is available from NWS in Brookhaven, NY.
As an FYI, don't head for your local bomb shelter when you look at the radar shots across New England. Right now there is a lot of bright banding occuring, which is making the rain look much heavier than it really is. Bright banding occurs whenever the radar beam passes through an area where snow is melting as it falls through the atmosphere. This increases the reflectivity at that location and give you the impression of heavier than actual precipitation. I am in Connecticut right now, and trust me, the sky is not falling.

I actually am suspecting that NWS may be overestimating precipitation forecast in New Hampshire. Their most recent discussion states:

AFTER TAKING A LOOK A QUICK LOOK AT THE 00Z NGM AND NAM MODELS WILL GO AHEAD AND EXTEND THE FLOOD WATCH INTO SOUTHERN NEW HAMPSHIRE AND WESTERN MA/CONNECTICUT. BOTH MODELS SHOWING A SOLID 2 TO 3 INCHES OF RAIN ACROSS THIS AREA AND WORRIED THERE MIGHT BE SOME BANDING PARTICULARLY ALONG THE BERKSHIRES. THE NEW FLOOD WATCH WILL BE AT SOON
The NGM is lovingly referred to as the 'No Good Model' by meteorologists and NAM cannot handle tropical systems. Really, I have never seen a good tropical forecast from the NAM, ever. However, it typically does very well with Nor'Easters. The latest NAM run brings the storm right up onto the coast, and this seems to be a very poor forecast.