UPDATE: At 150p EDT NHC issued a Special Update. Winds are now at 115mph making Wilma a category three storm once again.
It's show time! Overnight Wilma has strengthened into a major hurricane, despite having a large and ragged eye. At 6:30am EDT the eye of Wilma made landfall near Cape Romano, FL as a strong Category 3 storm with winds of 125 mph. Aircraft data suggests that Wilma could have been even stronger than this, but radar data suggests moderation in intensity estimates. As of the 11AM EDT advisory NHC is listing Wilma with 105 mph winds and a central pressure of 956 mb. Wilma's eye was located directly over Palm Beach County at the time of this post.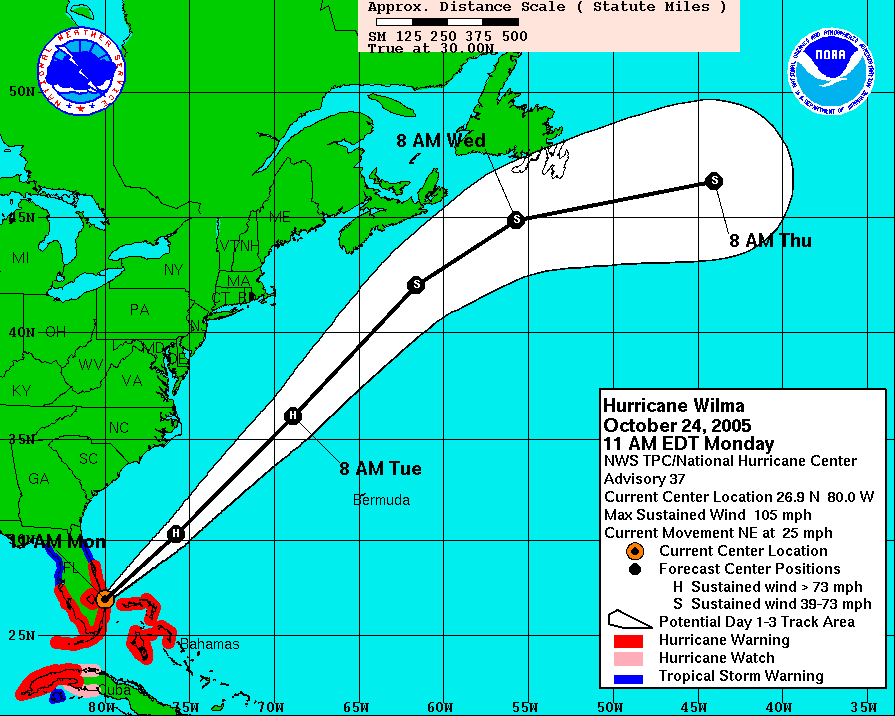 At landfall Wilma's large eye stretched from Naples, FL southward toward the southern tip of the Florida peninsula. Everglades City was roughly in the center.
Click on the image above for the latest radar shot.
Here is the latest shot:

Click on the image above for the latest radar shot.
Satellite imagery indicates that Wilma has been weakening over land. (Not that this comes as a surprise.) However, Wilma's eye remains intact which could allow for restrengthening over the Atlantic. I'm also going to point out something that is just cool. I didn't realize how cold is was over much of the South this morning until I looked at the satellite. The IR satellite imagery is actually measuring emissive temperature. You can see much of the South is shaded lighter than the Gulf. This means that temperatures being emitted from the continent are much cooler than the ocean. You can see in the visible shot that this is not due to any clouds. When I actually checked, I saw it was in the 40s in Pensacola. Ok, this is cool to me.

Aircraft recon also suggests that Wilma has a very broad wind field with several wind maxima. It remains hard to tell who exactly is going to take the brunt of the storm. The chart below diagrams the winds recorded by a recon flight late last night. The wind speeds are contoured in knots.

A Tornado Watch is in effect for the vast majority of Florida. Those of you in this area should keep a close eye on the weather and be prepared to take shelter immediately.

Click on the above graphic for a full map of the warnings.
After Wilma moves past Florida is when things are going to get really interesting. The first question that came to my mind is what Alpha was up to. However, water vapor imagery suggests the Alpha is not going to be a significant factor. Do you see Alpha in the shot below? He (since a male must follow a female in naming) is that blip in the center of the shot.

The real fun with this storm is going to be off the coast of New England and Nova Scotia. All of the model guidance suggests that Wilma is going to interact with an oncoming mid-latitude system and create quite a storm. The GFDL, among others, is forecasting Wilma to morph into a double barreled monster with winds up the Category 3 over the Grand Banks.

This is by no means unheard of. In 1991, what was left of Hurricane Grace approached the New England coast and interacted with a mid-latitude storm, creating the great Halloween Storm of 1991. Once off Nova Scotia, the storm developed an eye with temperatures 4 degrees C warmer than those outside the eye, proving it had tropical characteristics. The resulting storm was the basis for the famous book and later movie, "The Perfect Storm."
I am not expecting a Category 3 hurricane to strike Nova Scotia, but I think we could see one hell of a storm in the coming days. I just think we are in store for a good show.
NWS in Taunton, MA adds:

Hurricane Wilma will feed a portion of its energy into a newly developing noreaster Tuesday
A 14 hour period of damaging wind is expected along coastal locations, similar to that of the January 2005 blizzard.
The noreaster will intensify as it passes near Cape Cod Tuesday evening. Wilma will track well southeast of New England Tuesday.
Please keep in mind that Walt Drag (Mr. we're all going to die) and David Vallee (a man who dreams about transitioning New England hurricanes) are on duty in Taunton.
Of course, the New Jersey field office couldn't help getting in on the act.
SPECIAL WEATHER STATEMENT
NATIONAL WEATHER SERVICE MOUNT HOLLY NJ
...A FEW INCHES OF SNOW POSSIBLE LATE TONIGHT AT HIGHER ELEVATIONS...
A STORM SYSTEM DEVELOPING OVER THE MID ATLANTIC COAST WILL BRING WIDESPREAD PRECIPITATION TO THE AREA TONIGHT AND TUESDAY. MOST PRECIPITATION WILL BE IN THE FORM OF RAIN...HOWEVER NORTH WINDS ON THE BACK SIDE OF THE STORM COULD PULL IN ENOUGH COLD AIR BY LATE TONIGHT TO CHANGE THE RAIN TO SNOW AT HIGHER ELEVATIONS IN THE POCONOS AND FAR NORTHWEST NEW JERSEY.
THE EXTENT OF THE COLDER AIR IS UNCERTAIN...BUT IF SNOW DOES DEVELOP IT COULD ACCUMULATE FROM 3 TO 5 INCHES AT THE HIGHEST LOCATIONS IN CARBON AND MONROE COUNTIES...AND 2 TO 4 INCHES IN SUSSEX COUNTY NEW JERSEY. LOWER ELEVATIONS...BELOW 1OOO FT...WILL LIKELY SEE JUST RAIN.
ANY SNOW THAT FALLS WILL BE VERY WET AND HEAVY AND COULD EASILY BRING DOWN TREE LIMBS THAT ARE STILL COVERED WITH FOLIAGE.
STAY TUNED TO NOAA WEATHER RADIO OR YOUR LOCAL MEDIA FOR UPDATES AND POSSIBLE ADVISORIES FOR THIS DEVELOPING SITUATION.