3:00pm PDT Update:
Otis has continued to weaken and is now listed at 85 mph. The eye is very ragged and the convection is dying off. The infrared satellite images show this clearly. The advisory image has also been updated.

Previous Discussion:
Last night I reported that Hurricane Otis was getting much better organized. Today is showing a storm that seems to not be doing nearly as well, even though the maximum sustained winds have increased to 100 mph. Since that time, hurricane warnings and other additional advisories have been posted for Mexico.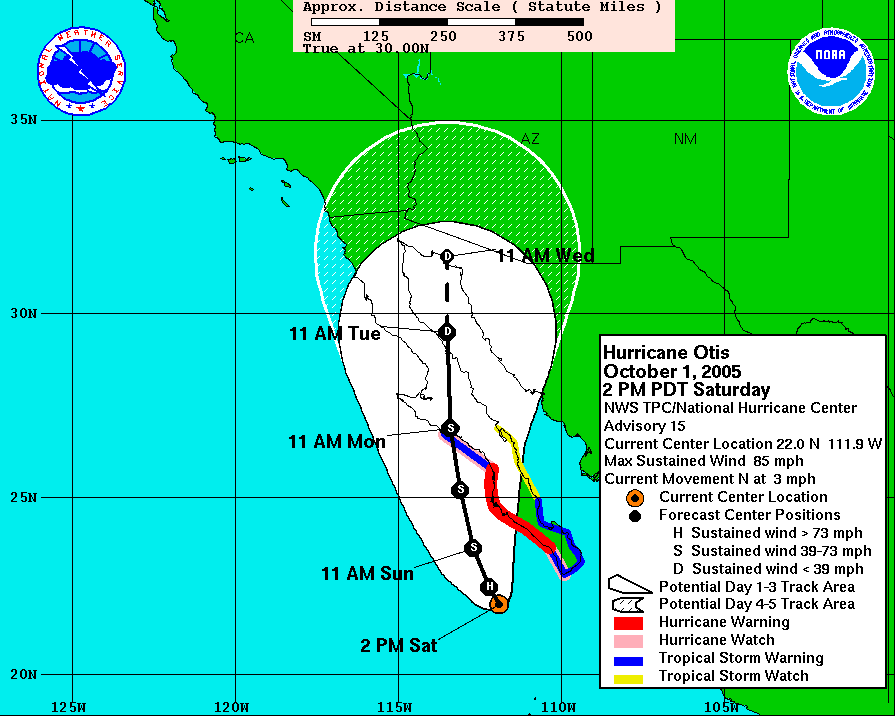 Notice at the obscure angle at which Otis is approaching the coast. This will serve to drag out the landfall and impact a much larger area with damaging wind, rain, and surf. However, I am seriously question how strong Otis will really be. As I showed last night, Otis was sucking in dry air from Mexico. Today you can see that has eroded the entire western side of the storm, which cannot be healthy for a hurricane.

The radar image out of Los Cabos has also degraded to the point that the eyewall is no longer present. This may change a little bit as the atmosphere warms, but it just another indication of less organization than was evident yesterday.

The model consensus continues to clearly brings Otis into the Southwest United States where he could cause some serious flooding. While it is too early to talk about those details now, please keep an eye on this situation. I am still unsure exactly how much of Otis will be left when he gets there.