The Carolinas are still bracing for renewed Hurricane Ophelia to come ashore. Watches and warnings are now in effect as far north as Virginia in anticipation of a landfalling hurricane. The Hurricane Warning has been extended northward to Cape Hatteras, NC, bring the total warning area from South Santee River, SC to Cape Hatteras, NC. A Hurricane Watch and Tropical Storm Warning have just been issued from Cape Hatteras, NC to the North Carolina/Virginia border, including Pamlico and Albemarle Sounds. A Hurricane Watch and Tropical Storm Warning still remain in effect from South Santee River, SC, to Edisto Beach, SC. A Tropical Storm Watch is now in effect from the North Carolina/Virginia border to Cape Charles Light, VA, including the Chesapeake Bay south of New Point Comfort.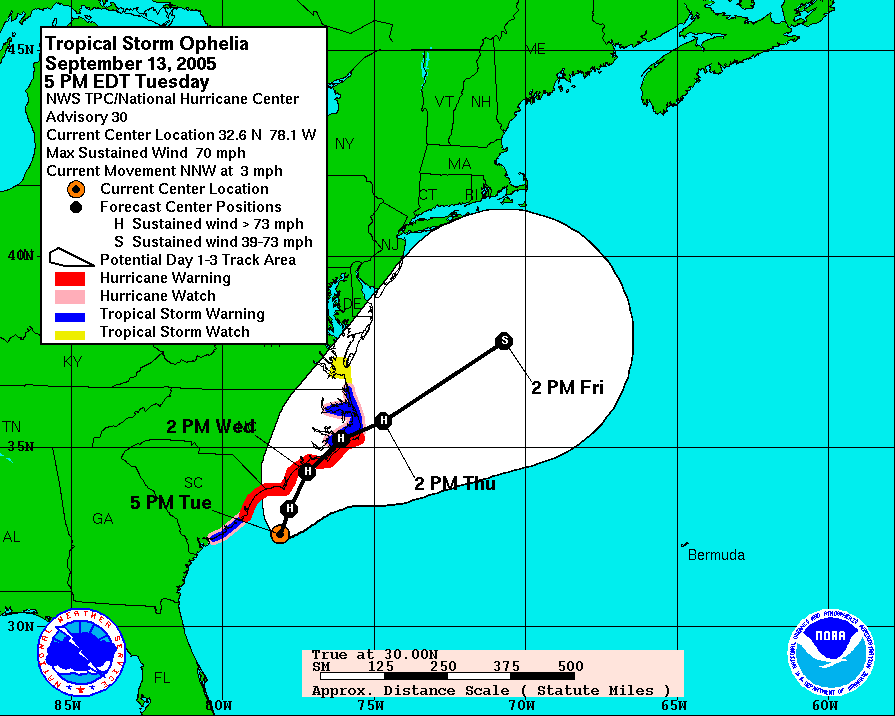 At 5:00pm EDT, Hurricane Ophelia was located about 110 miles east of Charleston, SC and 110 miles South of Wilmington, NC. Ophelia is staggering toward the coast at about 4 mph and is expected to turn towards the north overnight. Her current intensity is listed at 989 mb with sustained winds of 75 mph. NOAA bouys are already reporting sustained winds of 50 mph right off the coast, as tropical storm force winds extend out 160 miles from the center of circulation. Storm surges of up to 8 to 10 feet are possible in the affected area.
As Hurricane Ophelia is deflected out to sea by an approaching cold front, many areas could see up to 5 inches of rain. Interests in the Mid-Atlantic and New England should closely monitor the situation. The mountains of Vermont may prove to be especially at risk. When hurricanes interact with cold fronts, they often transition quickly to become hybrid storms and dump very heavy rains ahead of the cold front, to the left of the storm track.