Ophelia is continuing to wander off the coast and maintain her intensity as a minimal category one hurricane. Over the next few days little change in intensity is expected. Some weakening may occur as cooler water upwells from below the storm, and slight strengthening could occur if Ophelia moves back to west across the Gulf Stream.
A Tropical Storm Warning has been issued from the South Santee River, SC, to Cape Lookout, NC. A Hurricane Watch remains in effect from Edisto Beach, SC, to Cape Lookout, NC.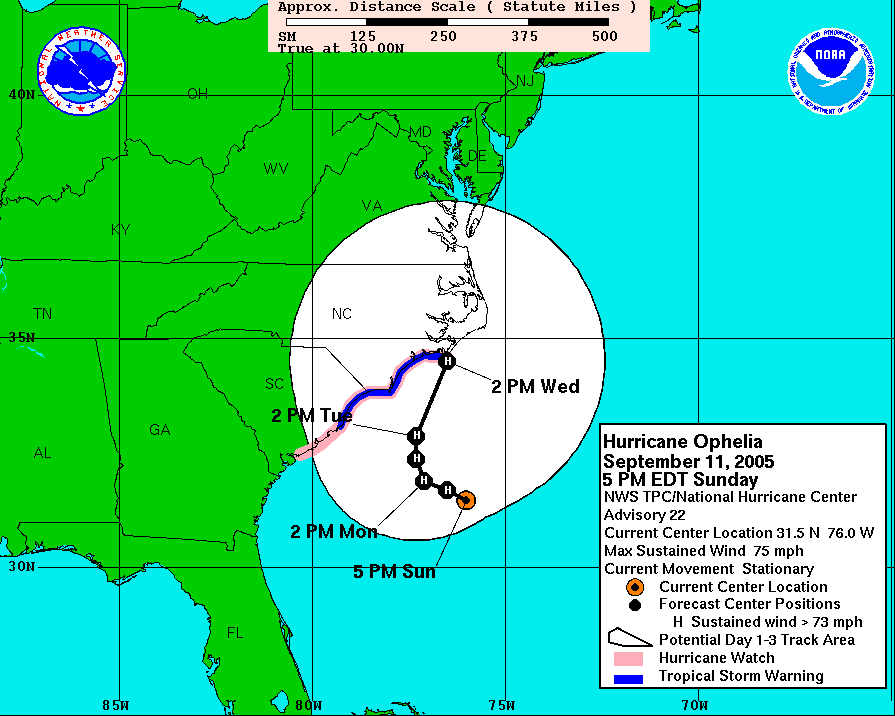 The blocking pattern in the area remains strong, but the ridge over the Ohio Valley should weaken in a few days and allow Ophelia to make some forward progress. The models continue to disagree over the track of the storm. The GFS has shifted the track left and calls for landfall over South Carolina. The UKMET stalls the storm for a couple more days and then takes it just off the Outer Banks of North Carolina. The FSU Superensemble keeps the storm well off the coast and shows it as no threat to land. NHC's official forecast track turns Ophelia to the west for the first couple of days, but then breaks the storm off to the northeast, just skimming the Outer Banks. My personal opinion falls somewhere in between the UKMET and FSU Superensemble. At this point I have to ignore the GFS, as it only seems to do well when strong steering patterns are in place. The UKMET typically does well with hurricanes, but I feel it is trending too far to the west. My honest opinion is that Ophelia is going to continue her stubborn ways and try to stay out to sea. Of course, this is my gut and I can't really back this up too heavily.