Tropical Depression Eighteen has just been upgraded to Tropical Storm Rita. With the latest advisory, tropical storm watches have also been issued for parts of Florida. These join the already standing hurricane watch in the Florida Keys.
At 5:00pm EDT, a Tropical Storm Watch has been issued for the extreme southeastern Florida peninsula from Deerfield Beach southward to Florida City and continuing westward to East Cape Sable. This join a Hurricane Watch in effect for all of the Florida Keys from Ocean Reef out to the Dry Tortugas, including Florida Bay. A Hurricane Watch has also been issued for much of northwest Cuba and remains in effect for the northwest Bahamas.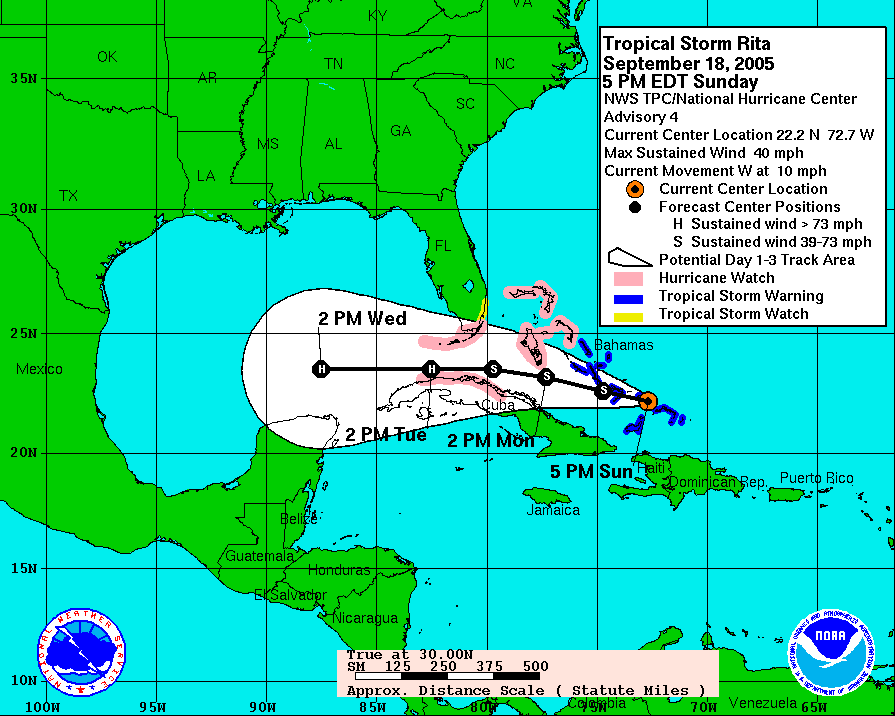 Since the last model run, the consensus track has made a swing further south closer to Cuba. However, the most recent aircraft recon reports that the wind field near the center is very weak but there is a much stronger field of tropical storm force winds off to the northeast. The deep convection present there makes me think we are likely to see a reforming of the center of circulation further to the north some time tonight.
A more northern center of circulation combined with a southward swing in the guidance could easily wash out in the actual track. Accordingly, the forecast track is held fairly steady. A low shear environment combined with warm sea surface temperatures should allow Rita to strengthen to a hurricane in a few days. As is always the case with new systems, the track and intensity forecasts are prone to initial errors. We are already seeing that in the reformation of Rita's circulation a little further to the north. After Rita reforms the models should lock back in on a better track solution.
However, as you can see below, the intensity forecast remains uncertain. For the last few runs, the GFDL has been suppressing the development of Rita until she reaches the Gulf of Mexico. The extremely warm waters of the Gulf tend to cause hurricanes to strengthen very quickly so it'll be very interesting to see what happens at that point. This rapid intensification is often not well represented in the models and can spill over into error in the forecast track.