They aren't called the Miami Hurricanes for nothing...
UPDATED: 150PM EDT
She isn't real pretty yet, but Tropical Storm Rita is fixing to make life miserable for a lot of people.
With movement to the west-northwest at 14 mph, Rita has sustained winds of 70 mph and is forecast to strengthen steadily over the next few days. I expect that we will be seeing Hurricane Rita by tonight. Watches and warnings have been posted for much of Southern Florida and the Bahamas including Hurricane Warnings over much of Southern Florida. This represents a large expansion of advisories that represents a more northerly shift in the storm.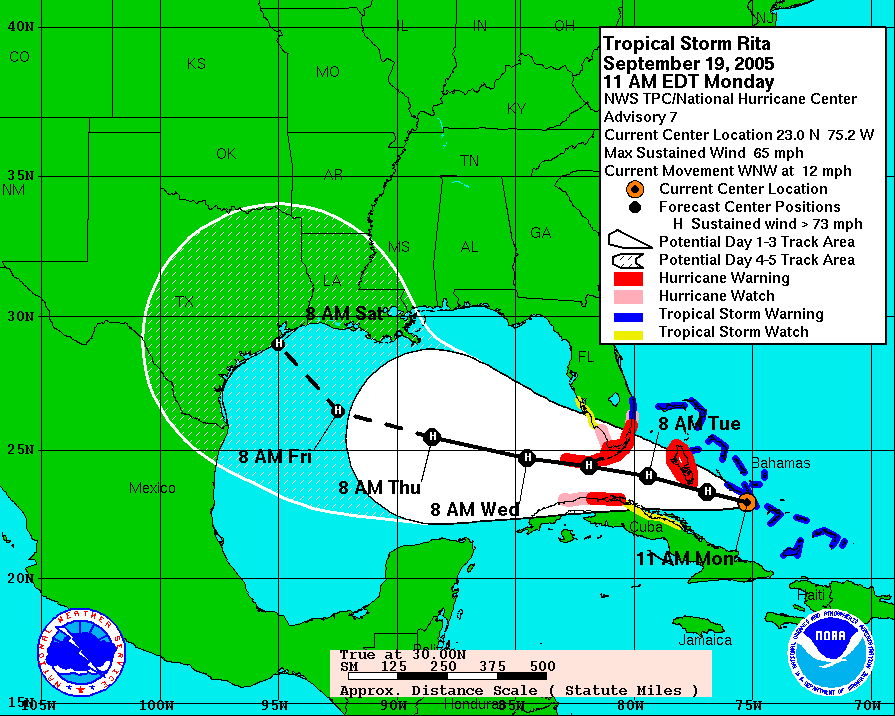 New Orleans and Buras, LA are both showing up in the Probabilities for Rita but with very varied numbers; the term 'crap-shoot' comes to mind. It is waaaay too early to be thinking about possible strike locations, but it is something to keep in mind.
Theoretically if a 'Cane were to hit New Orleans of any strength, never mind a potentially major (Cat 3 or above) storm like this one, at this point I don't know what more it could do. NOLA is pretty much lacking a viable levee system at the moment and it wouldn't take much for the city to flood again. The good news is everyone is evacuated and I don't know how much more damage could be done. Not exactly a silver lining, more like shades of gray.
The recent model trends to make me very nervous for New Orleans. The models have been trending further north and increasing the recurvature. Right now the obvious long-range target seems to be Houston, but extrapolation the current model trend would bring the storm right over the central Gulf Coast. Even a hit on Houston, where most of the evacuees are, could be extremely dangerous. Just think of the Galveston Hurricane of 1900 which still remains the deadliest disaster in American history.
Just compare this to last night's model run.
And take a look at the latest run of the experimental MM5 model out of Florida State.
When Rita does reach the Gulf Coast, she looks to mean serious business. The extremely warm waters of the Gulf of Mexico tend to act like gasoline to fan the fire.