In a special statement, NHC finally upgraded Rita to a hurricane. The latest advisory from NHC lists Rita at 982 mb and 85 mph. Satellite Dvorak measurements from the Univ. of Wisconsin currently estimate Hurricane Rita at 969.5 mb and 90.0 kts (103.6 mph). This is obviously indicating a much stronger hurricane than recon is reporting and is likely due to Rita's difficulty forming a core up until now.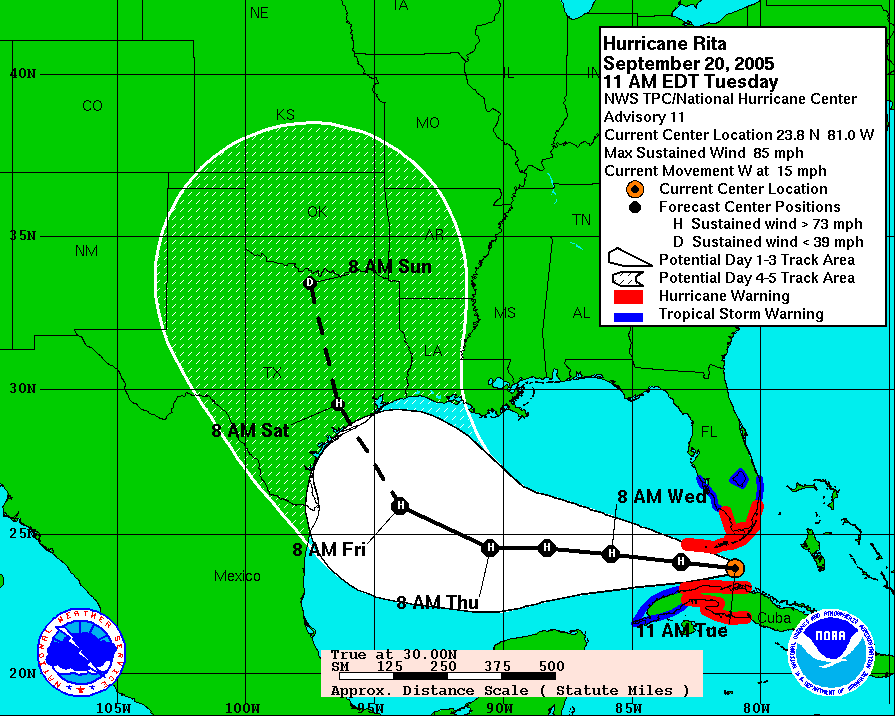 Key West radar clearly shows the Hurricane Rita has formed an eye, although Dvorak satellite shots are still missing this feature. This could be setting the stage for explosive growth soon.
Rita had been slow to strengthen due to shear from the east that keep breaking up its core. Hurricane Rita is currently located in the middle of the Florida Straight and preparing to last the Keys. Convection remains strong and I see nothing about to break up Rita.
The model tracks are continuing to shift around and I suspect that we will not see convergence until after Rita enters the Gulf of Mexico. Often when I storm gets near land, different models handle the storm in different ways. The same also applies when a system enters a body of water that is inialized differently in the models, such as the Gulf of Mexico from the Florida Straights. The current model tracks bring Rita somewhere between Brownsville and Galveston (centered somewhere around Corpus Christi).
The model intensity forecasts show nothing new and I still expect Rita to eventually reach major hurricane status. For more on the intensity prospects, please refer to my previous post.