Hurricane Rita has begun to weaken as she approaches land. Hurricanes will often weaken before landfall as they ingest 'dry' air off of the continent. Rita is currently over a warm ocean eddy which is helping her maintain her wind speeds at 140 mph, for now. Rita's central pressure is way up to 930 mb, and she actual may be forming ANOTHER outer eyewall.
We all know that Rita was previously a Category 5 storm. At one point Rita was the third strongest storm ever recorded in the Atlantic. Please remember that althought Rita is now a Category 4 storm, she can still pack storm surge of a Category 5!
The infrared satellite image shows a slightly weaker core that is trying to again rebuild. The last several hours are showing signs of dry air entrainment, although it appears to have not yet reached the core.
An even clearest sign of this is shown in the water vapor imagery. You can clearly see dry air from Louisiana being sucked right into the circulation.
The latest model run continues to favor a landfall somewhere between Galveston and western Louisiana. Today's motion has been a little to the right of the forecast track, so I am considering a right hook to be a strong possibility. The models have continued to trend to the north so I think this is an increasingly likely scenario, and one that I mentioned earlier this week. At this point I think that Corpus Christi will be safe, so South Texas can breathe a sigh of relief. Evacuations in Texas area underway and Lousiana is largely already empty. For evacuation information see the evacuation info post.
Watches and warnings are in effect all over the Gulf Coast: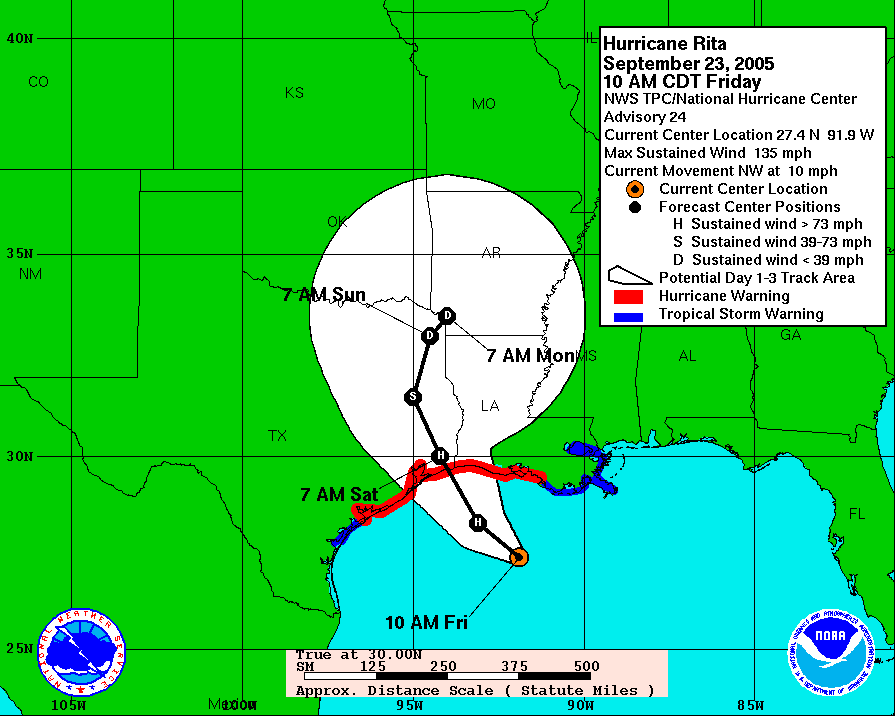 From here, eyewall replacement cycles may be the deciding factor in intensity until landfall.
Worth noting is that the water gets progressively less energetic from here, but still paves a path right towards the Texas / Louisiana border. The map below is of Tropical Cyclone Heat Potential.
I have been hoping that the forecast models would continue to bring Rita inland after landfall, but right now that seems unlikely. The forecast models are continuing to stall the hurricane out after landfall. This could create serious flooding problems across the Gulf Coast. Please remember that during the 90s, the leading killer from hurricanes was inland flooding from rain, while before that storm surge had been the leader. Below I attached two maps of forecast rainfall. The first map is as of 2:00pm CDT Sunday and the second is from then until 1:00pm CDT Tuesday.

Please note that these two maps are not cumulative! You must add the values shown to get the total rainfall! This could bring over a foot to many areas, including the New Orleans area. I don't think I need to remind everyone what a foot of rain will do to New Orleans when her pumps are not working at capacity.