10:00 am update: Rita has been upgraded to a category 1 hurricane. More details to follow in a new post.
I am very surprised that NHC has yet to upgrade Tropical Storm Rita to a hurricane. She looks very well organized and seems to be churning right along towards Southern Florida. NHC has Rita listed at 990 mb with sustained winds of 70 mph, just shy of hurricane force. I was expecting to see more impressive numbers in the latest advisory because the University of Wisconsin Dvorak satellite estimate is 980.4 mb and 74.6 kts (86 mph). In its latest advisory, NHC extended the Hurricane Warning to cover almost all of South Florida. A map of the advisories is below.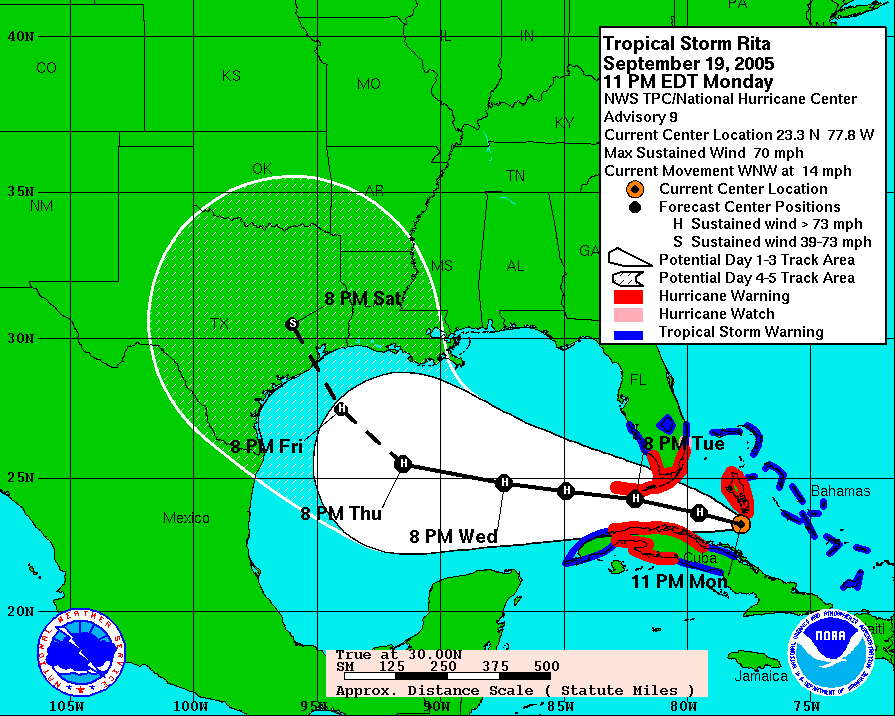 Rita is really getting her act together now. There is a very impressive core developing. One look at the satellite imagery shows a very strong convective core surrounding the center. Those are some impressive cloud tops.
To give yourself an idea of how Rita has developed, check out this satellite loop from the University of Wisconsin.
I have become very impressed with how well Rita is behaving in terms of following the forecast. Some of you may have noticed that I did not mention the 18z model run when it came out and the tracks were shifted back south, away from Lousiana. You will find that I very rarely give credit to 06z or 18z model runs. The reason for this is that all weather balloons and other soundings are launched at 00z and 12z from all the upper-air stations around the world. This means that every time a 06z or 18z model runs, it uses the same upper-air data as the prior run, and at that point it is already 6 hours old. This means that 06z and 18z models are often much less accurate than the cycle before them. I believe we have seen that again. For those of you who saw my earlier forecast, you will feel reaffirmed to see the latest model chart.
Once again the eastern Texas into Louisiana area seems to be the general Gulf Coast target area. However, before it gets there, the Florida Keys are going to take a lashing from a strengthening Rita. NHC is forecasting Rita to be a Category 2 hurricane by the time she reaches Key West. Depending on how Cuba and the Florida peninsula interact with Rita, we could see a substantial shift in forecast once Rita enters the Gulf. Just keep in mind what happened to Katrina and Charley once they hit the Gulf of Mexico.
Intensity is very hard to forecast, but below is the raw model output. Be warned that models often tend to underestimate hurricane intensity.
As a friend once told me "The Gulf of Mexico is like Miracle Gro for hurricanes." Right now it seems as if a road of high energy water leading right to the northwest Gulf Coast. Along Rita's forecast track there is a path of higher energy water just waiting as fuel. Below is a map of Tropical Cyclone Heat Potential.
But what does this mean for the intensity we should prepare for? As you will see below, the entire Gulf of Mexico is filled with water capable of supporting a Category 5 hurricane. However, this does not mean it will develop unless shear stays low and dry air stays away from the core.