Hurricane Rita has continued to strengthen all day today. The latest advisory lists Rita at 960 mb with 115 mph sustained winds, making Rita a Category 3 major hurricane. Rita has just passed the Dry Tortugas, FL and is now into the Gulf of Mexico. She has really shored up her eye and has a serious eyewall in place.
The 11:00pm advisory may already be outdated as the latest Dvorak technique satellite pass from the Univ. of Wisconsin is estimating a central pressure of 956.8 mb and a wind speed of 104.6 knots (120.4 mph).
Check out the radar shot from Key West. It shows a very strong eye wall and hurriane with excellent feeder bands. The hurricane can also be tracked using the radar in Casablanca, Cuba:
Recon reported the eye to be 30 nautical miles wide, which is very large for a hurricane. As the eyewall shrinks, look for winds to really pick up as an eyewall replacement cycle kicks off.
The outflow to the north and west of Hurricane Rita is extremely healthy. This is important as the storm needs to exhaust the dry air aloft or it will choke itself. You can see one healthy outflow band passing from Jacksonville out into the Gulf. Although not as immediately evident, another outflow band seems to be developing south of western Cuba. Rita's eye has begun to clear out and deep convection is surrounding the core. The weakness to the south side of the hurricane is due to the presence of Cuba and should disappear as Rita enters the open Gulf.
I don't see anything out there to slow down Hurricane Rita. As we discussed earlier, the water in the Gulf is perfectly capable of supporting a Category 5 hurricane. There is a very high energy stretch of water leading all the way to the Galveston area. Below is a map of Tropical Cyclone Heat Potential (TCHP) which is basically a measure of the amount of fuel available to a hurricane.
Likewise as I mentioned, outflow is excellent. The eye, as evident on the radar, is clearly intact and strong. Model guidance has consistently underestimated Rita's intensity, but this is very normal for hurricanes. Take a look at the model forecasts for Rita's wind speed below:
Knowing that the models are probably low and nothing I can see stands to oppose Rita, I am going to agree with NHC's take on intensity.
THE PREVIOUS ADVISORY INDICATING RAPID INTENSIFICATION FOR THE NEXT 24 HOURS APPEARS TO BE ON TRACK. DURING THE PAST 14 HOURS...THE CENTRAL PRESSURE HAS DECREASED 20 MB...OR AT A RATE OF ABOUT 2 DVORAK T-NUMBERS PER 24 HOURS. WHILE SUCH A LARGE PRESSURE FALL TREND RARELY OCCURS FOR MORE THAN 24 HOURS...THE VERY FAVORABLE UPPER-LEVEL OUTFLOW PATTERN AND 30C-31C SSTS BENEATH RITA SUGGEST THAT RAPID INTENSIFICATION SHOULD CONTINUE FOR AT LEAST ANOTHER 24 HOURS. A POLEWARD OUTFLOW CHANNEL IS WELL ESTABLISHED WITH OUTFLOW ACCUMULATING INTO A LARGE UPPER-LEVEL LOW...OR MASS SINK...EAST OF THE BAHAMAS. IN ADDITION... AN EQUATORWARD OUTFLOW CHANNEL ALSO APPEARS TO BE DEVELOPING. GIVEN THE DUAL OUTFLOW PATTERN THAT IS EXPECTED TO PERSIST FOR THE NEXT 36-48 HOURS...STRENGTHENING INTO A CATEGORY 5 HURRICANE IS A DISTINCT POSSIBILITY.
While I am not ready to forecast a Category 5 storm yet, I definitely expect to see a Category 4. Considering that Rita is a Category 3 already, 5 seems to be very possible. Now, what about track? Look at the model charts below. I have put them in order progressing in 6 hour runs with this morning, this afternoon, and then tonight's run last. Pay attention to how the AVN and BAM (two of our workhorse tropical models) move. (Click for a larger view)
Did you notice the progressive northward shift towards northeastern Texas, almost to the Louisiana border? Model trends like this can be very hinting and often continue into the future. We saw the same thing when Hurricane Katrina was forecast to strike the central Florida panhandle, but the models kept shifting west until they locked onto Louisiana. This entire area is still in NHC's possible strike area shown below.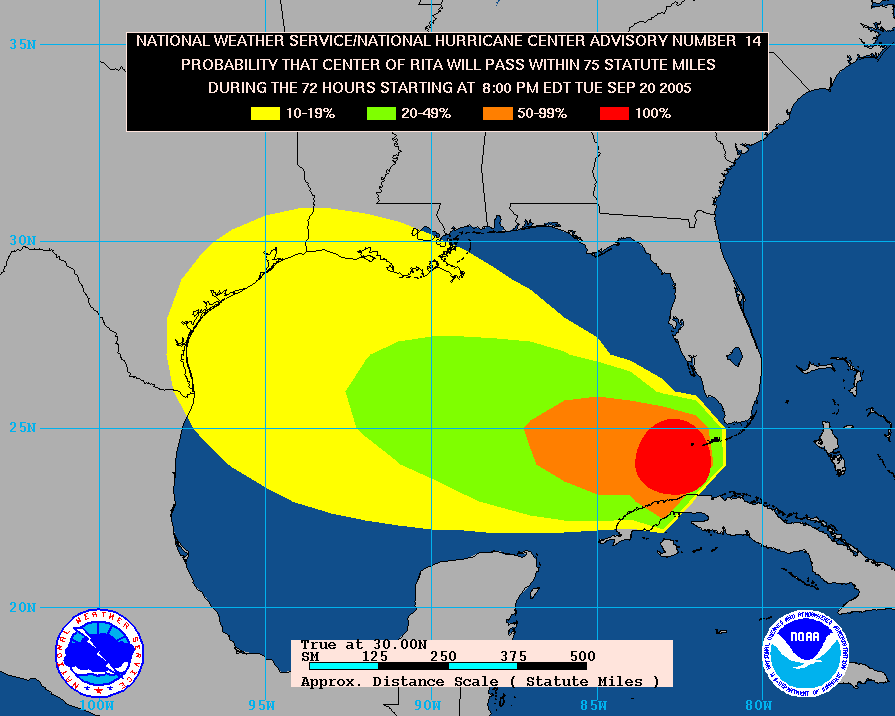 New Orleans to Brownsville remains threatened here, but I am starting to look more towards the northern part of that area. Consider yourselves warned, especially in the Galveston area and to the north into Louisiana. Please refer to my earlier post for Texas evacuation information and plans. Look towards the second half of the post.