Tropical Storm Rita has continued to strengthen, and hurricane warnings have just been issued for the Florida Keys.
At 11:00pm EDT, the Hurricane Watch for the Florida Keys has been upgraded to a Hurricane Warning. A Hurricane Warning is now in effect for all of the Florida Keys from Ocean Reef out to the Dry Tortugas. The Tropical Storm Watch for the extreme southeastern Florida peninsula has been upgraded to a Tropical Storm Warning and Hurricane Watch. A Tropical Storm Warning and Hurricane Watch are now in effect from Deerfield Beach southward to Florida City and continuing westward to East Cape Sable. A Tropical Storm Watch is now in effect for the extreme southwesten Florida peninsula from west of Each Cape Sable westward to Chokoloskee. A Hurricane Watch remains in effect for northwestern Cuba and the northwest Bahamas. NHC is recommending a Hurricane Warning for the northwest Bahamas, but their government has yet to issue one. A Tropical Storm Warning remains in effect for the Turks and Caicos Islands and for the southeast and central Bahamas.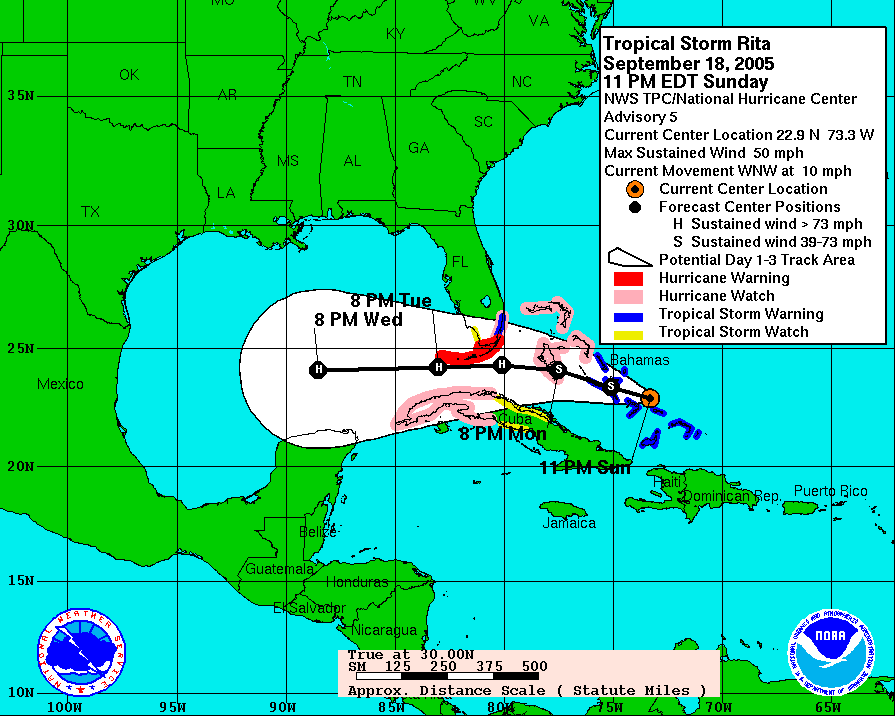 The latest satellite imagery shows increasingly healthy outflow and two very deep burst of convection.
Since the last model run, the models have become even more divergent in the forecast tracks. Models now bring the storm as far north as Miami and then into Mississippi and as far south as the Yucatan of Mexico. Due to the wide variability in model runs, the forecast track is held fairly steady. A low shear environment combined with warm sea surface temperatures should allow Rita to strengthen to a hurricane in a day or two. One model forecast of interest is the BAM. The BAM model continues to call for a landfall of a major hurricane in the New Orleans area after striking southern Florida. Even if Rita misses New Orleans, it could still strike many of the refugees in Texas. Don't say we never warned you.
However, as you can see below, the intensity forecast remains uncertain. For the last few runs, the GFDL has been suppressing the development of Rita until she reaches the Gulf of Mexico. The extremely warm waters of the Gulf tend to cause hurricanes to strengthen very quickly so it'll be very interesting to see what happens at that point. This rapid intensification is often not well represented in the models and can spill over into error in the forecast track. An interesting note is that although the GFDL holds on on intensification, it does develop a much stronger hurricane. It is very likely that we will be dealing with a major hurricane in 72 hours.