Ophelia is clearly showing signs of the upwelling cooler water in the area. While her structure remains clearly tropical, it is devoid of serious deep convection in the core. Once she moves past the Carolinas' I expect to see her quickly transition into a hybrid storm.
A Hurricane Warning has been issued from the South Santee Rive, SC, to Cape Lookout, NC. A Tropical Storm Warning has been issued from Cape Lookout, NC, to Oregon Inlet, NC, including Pamlico Sound. A Tropical Storm Warning and Hurricane Watch remain in effect from Edisto Beach, SC, to the South Santee River, SC.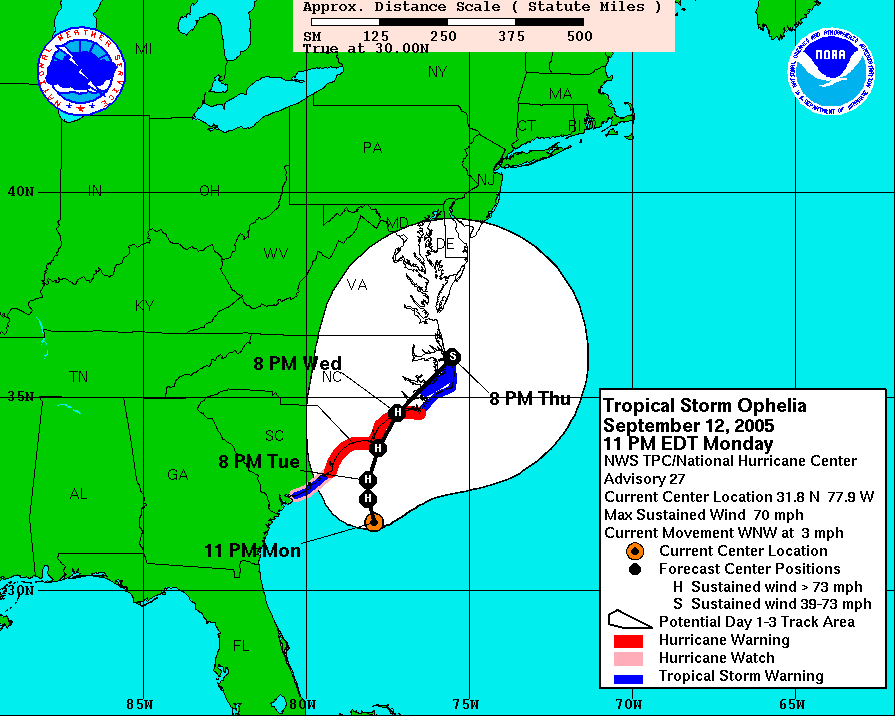 Ophelia remains a very strong tropical storm and could easilly restrengthen into a hurricane at any time as she moves across the Gulf Stream. Opehlia is mainting a very broad wind field with tropical storm force winds reaching 160 miles from the center of the storm. As can be the case with a past-mature storm like Ophelia, her strongest winds exist far from the center of circulation (approximately 50-60 miles in this case). This will allow the strong winds to reach the shore well in advance of the storm. Due to her broad wind field, slow forward speed, and oblique angle of approach, there will be a very long period of near hurricane force winds along much of the Carolina coast. Extensive damage (for a weak hurricane) is possible along this area simply due to the extensive and sustained impact. Those in question should remember what Category 1 Katrina did to South Florida when she killed 11 people and left billions of dollars of damage.
As Ophelia recurves into the Atlantic, she should bring heavy rains to areas of the Mid-Atlantic and New England through Friday. The cold front should push Katrina out to sea by Saturday and allow for a beautful weekend for the Northeast. However, the lingering front may allow for showers across the Southeast.
Whenever a tropical system interacts with an approaching cold front, the heaviest rains usually occur to the left of the track. Parts of North Carolina and New England could see up to 5 inches of rain, possibly leading to isolated flooding.