This has been an absolutely incredible hurricane season, and we are still near the peak. Hurricane Rita has continued her explosive growth and has finally reached Category 5. Fortunately, Rita should slowly weaken until landfall. Category 5 hurricanes are very hard to maintain.
Aircraft recon earlier reported a central pressure of 897 mb. This makes Hurricane Rita the third most intense hurricane ever record in the Atlantic. This places Rita behind Gilbert in 1988 with 888mb, and the 1935 Labor Day Hurricane with 892 mb. Last month Hurricane Katrina recorded 902 mb. Right now the central pressure is up slightly to 907 mb.
The infrared satellite image shows and extremely healthy core capable of supporting an incredible wind field. There are cloud top temperatures below -80 degrees C, which is just about the strongest you can ever see from a hurricane.
The latest model run continues to favor a landfall somewhere between Corpus Christi and Galveston. All of the central Texas coast needs to evacuate immediately. Evacuations in Texas area underway. For evacuation information see the evacuation info post.
Watches and warnings are in effect all over the Gulf Coast: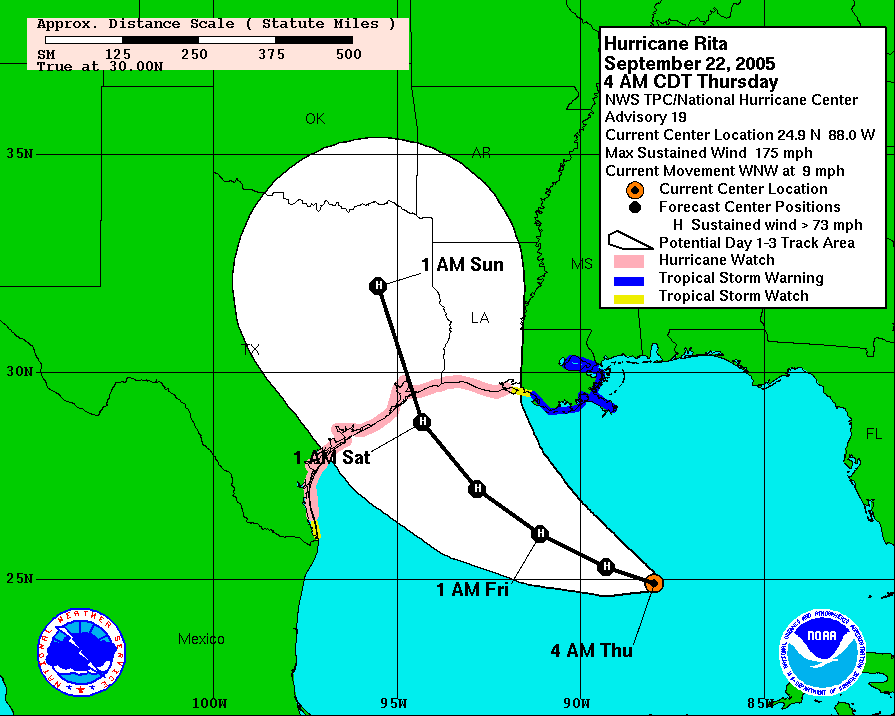 From here, eyewall replacement cycles may be the deciding factor in intensity until landfall.